Volleyball makes it five consecutive losses as it drops to North Dakota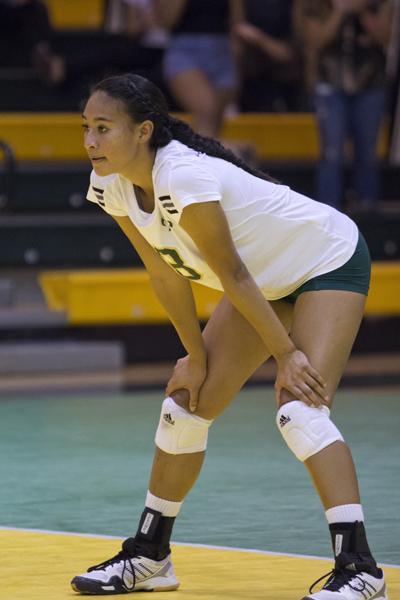 The Sacramento State women's volleyball team fell 1-3 to first-year Big Sky Conference foe North Dakota at Betty Engelstad Sioux Center on Saturday.
The match marked the first time the two teams have met since 1988 and the first time Sac State traveled to Grand Forks to take on North Dakota. 
The first set was controlled wire-to-wire by North Dakota as it gained a seven-point edge over Sac State when it led 14-7 and cruised to a victory to end the set 25-18.
The Hornets did not manufacture much offense in the set. However, the Sac State defense forced 10 attacking errors in the loss.
In the second set, Sac State showed some resilience as it dug out of a 1-4 deficit. The game was eventually tied 9-9 before the Hornets went on a 16-10 run to close out the set 25-19.
The Hornet defense came up with another strong performance of 13 errors forced to help tie the match 1-1.
Neither team thoroughly controlled the third set. The Hornets opened the game with a 5-2 run before surrendering the lead. Eventually, North Dakota built a five-point lead, 21-16, until Sac State came back to tie it up 23-23.
North Dakota would go on to score points on a kill and end the set on a service ace to take a 2-1 lead in the match going into the fourth frame.
Sac State was dominant to begin the fourth set, but its seemingly secure 16-3 lead was not enough to push the match to five sets. North Dakota went on a tear with a 22-6 run to end the Hornets' hopes of a victory.
Senior co-captain Janelle Currey had a good all-around game with seven kills and led the Hornets with 14 digs. True freshman outside hitter Sloan Lovett played well with nine kills and nine digs. Sac State hit for the third-worst percentage of the season connecting on less than seven percent of its attack attempts.
Sac State has now extended its season-high losing streak. After opening up conference play with a win over Eastern Washington, the Hornets have now dropped five straight. The Hornets now have a record of (1-5) in Big Sky and (5-10) overall.
Junior setter Hannah Hettinga made her return after missing the game at Northern Colorado on Thursday, but senior co-captain Jesse Genger sat out again with an undisclosed foot injury.
The Hornets have ended a four-game road trip and will return home on Thursday to take on Idaho State, (5-1) Big Sky. The match will start at 7 p.m. at The Nest.
Joe Davis can be reached at [email protected]