Volleyball is ready for Northern Colorado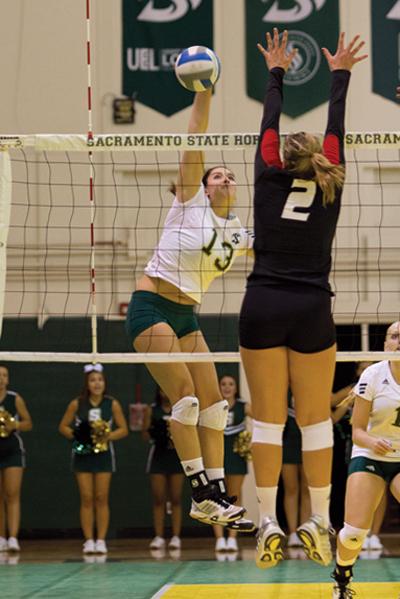 On Thursday, the Sacramento State women's volleyball team will travel to Greeley, Colo. to battle the Big Sky Conference defending champions the Northern Colorado Bears in the third game of a four-game road trip.
The Bears were undefeated in the conference with wins against University of Montana and Montana State, but after a loss on Friday to Idaho State the team dropped to third in the conference with a record of 3-1 in the Big Sky.
In 2011, Northern Colorado won the regular season championship with a record of 22-9 and its success rolled over into the postseason with a Big Sky tournament championship and an NCAA tournament berth.
The Hornets split the 2011 season series with the Bears with both teams having defended their home court, but Northern Colorado has a one game edge in the all-time series 9-8.
Sac State is 1-3 so far in conference play and it posts a record of 5-8 overall after a rough stretch with losses to Northern Arizona and Southern Utah on the road trip.
The Hornets have lost three matches in a row and it remains to be seen if a victory against Northern Colorado will get the team turned around.
"Any sort of win against any team in the Big Sky is going to be a turning point," said head coach Ruben Volta. "All the conference matches are important and it is too early in the season to say if (the Northern Colorado) game is more important than any other game."
Senior co-captain and outside hitter Janelle Currey said the team has a rivalry with every team in the conference and with that brings added motivation.
"We don't like any of the teams in our conference," said Currey after a recent loss to Portland State. "When we get into conference (play) with every match (the team) has a reason to get excited."
Currey is a leader in more ways than one, whether it is making a key block to push the match into extra sets like she did versus Portland State or leading the team in kills with 151 on the season.
There has been no indication as to when senior co-captain Jessie Genger will return to the court after being sidelined with an injury, but there have been solid fill-ins taking her place until her return.
True freshman Lauren Aikels and sophomore transfer student Kiley Mansfield have done well in recent matches.
Aikels produced eight kills against Eastern Washington. Even more impressive, the outside hitter served up three aces to help her team to a win.
Mansfield, who is coming off of a shoulder injury, has chipped in by shelling out 13 kills in the first two conference games.
The showdown with Northern Colorado will be the third of a four-match road trip. Sac State will head to North Dakota before returning to The Nest on Oct. 5 to take on Idaho State.
Joe Davis can be reached at [email protected]