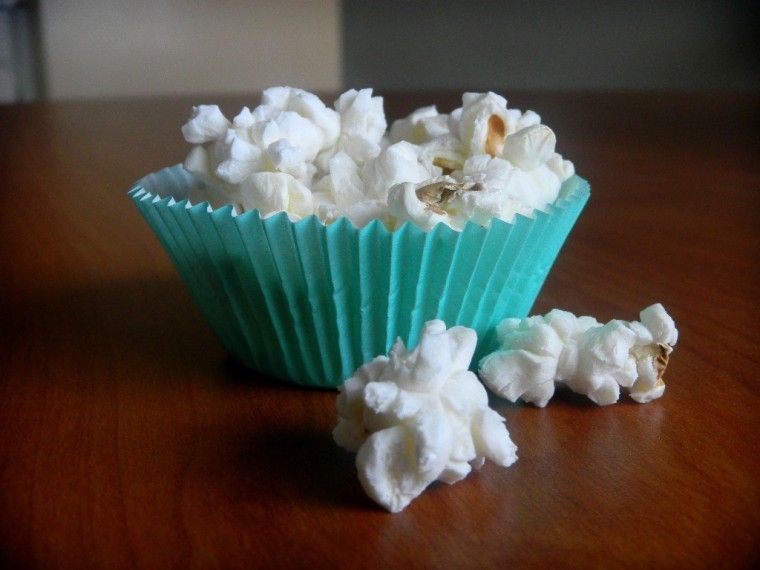 If you haven't already, make March the month to think differently about the food you consume – it is National Nutrition Month you know.
Being healthy is a never-ending process and not something that happens over night. It is important to start off small with things like snack choices.
The snacks many of us choose to eat are most certainly what keep those extra pounds lingering around. You probably think being healthy as a student is tough and expensive but, as someone who is working at it every day, I can tell you it is not that hard.
Eating an apple as a snack may not seem too appealing right now but, as I mentioned in a previous post, you can train yourself to like healthier foods by consistently choosing healthy foods over unhealthy foods. The longer you go the more you will enjoy it – as cravings for junk progressively vanish.
I think food is addicting – especially fattening, processed food. When I used to crave things like Snickers, fries and nachos, I would do whatever I could to get them. Cravings for these particular junky foods was uncomfortable – somewhat like a smoker craving for a cigarette – but looking back on it, I see how completely weird it is to ever feel that way about something that does more harm than good.
At NaturalSociety.com, it states a recent study published in The Journal of Clinical Investigation found evidence of "processed foods and sugary drinks as being highly addictive, but also that once someone falls into the trap of consuming these foods and becomes obese, their bodies want to stay that way."
If you can't remember the last time you didn't eat a Hungry-Man meal for dinner, or something like a doughnut for a snack, chances are your body is dependent on junk, which probably isn't the best thing for your health.
My first step towards healthfulness was completely cutting out fast food and soda. I knew if I wanted to maintain a healthy body for the rest of my life, unnecessary food and drinks had to go. I quit cold turkey, although I sometimes got urges to order things like small fries when I was with friends, I didn't follow through with it.
It only got easier and my cravings for that kind of food eventually stopped. Now I don't consider it to be food at all – this also includes things like potato chips, donuts, Slim Jims and refined grains. All of that is salty, mystery crap that makes people fat.
I'm not saying every time I have ever gone to reach for a snack it has been a nutritious choice. No one is perfect. Because of the research I have done, I have developed a mindset about particular foods that completely omits them from ever being an option when I do have a craving for "junk."
Now, junk food to me includes things like dark chocolate (if I eat too much of it – which is easy to do), vegan cookies and Soy Delicious chocolate ice cream – all of which I do not make easily accessible for myself.
Some of my favorite snacks include almonds, whole wheat toast with almond butter or peanut butter, bananas and peanut butter, carrots and mustard, Larabars
, pretzels and popcorn.
Popcorn is a great snack because it is cheap and super easy to make. Some people might die in frustration after buying a bag of kernels, but they will be surprised to find out is those little kernels are as easy to pop up in the microwave as prepackaged microwave popcorn.
Nuts – I love almonds, walnuts, Brazilian nuts (Love them!) and cashews – are wonderfully healthy. They contain good fats such as  monounsaturated and polyunsaturated fats, both known to lower cholesterol and aid in fighting heart disease. Of course, they should be consumed in moderation because their fat content is high and consuming an excess amount of any food isn't healthy.
A quick snack I have gained somewhat of a dependency on are Heart Thrives from The Healthy Baking Company sold at Eco-Grounds in the University Union. They are nifty, whole grain energy bar-type snacks packed with oats, soy, dried fruits and a great source of protein, fiber and calcium. A bonus is they're heart-shaped and vegan! The flavors Eco-Grounds provide seem to change up every day.
Since I have stopped by quite a bit for these delicious and nutritious snacks, I've tried them all. Their flavors consist of apricot, cranberry, apple, date, poppy seed, chocolate chip and raisin. If you're down for something small that will keep you full for a long while, I definitely suggest trying them out. It costs about $2.50 for a pack of two.
One of my my absolute favorite snacks is pita bread and/or vegetables and hummus. When I go grocery shopping it's hard not to look at the hummus in lust, but I know buying ingredients for hummus (it will make many batches, too) is cheaper. It will go a much longer way than a $5 container of hummus from the grocery store.
Yum-mus Garlic Hummus
1 can garbanzo beans, liquid reserved and set aside
½ teaspoon salt
1 garlic clove (or 1/2 teaspoon crushed garlic)
2 ½ tablespoons tahini (Tahini is ground sesame seeds. If you have sesame seeds, grind them yourself. )
¼ cup lemon juice
1 tablespoon chickpea juice (or water)
2-4 drops of Tabasco sauce (to taste)
1 tablespoon olive oil
Place all of the ingredients in a food processor or blender and blend until it turns into a smooth puree.
Scoop into a small dipping bowl and garnish with paprika if you have some! Makes about 1 cup of hummus.
What is hummus without pita bread? After a bit of experimenting, I came up with a delicious recipe for homemade pita bread. It is adapted from a whole wheat pizza dough recipe I have had for a while; I just made a few changes to make it more pita-like and it is delicious.
Half Wheat Flax Pita Bread
Preheat Oven to 350 F.
1 cup all-purpose flour
1 cup whole wheat flour
1 teaspoon turbinado sugar
3/4  teaspoon salt
1 teaspoon garlic powder (optional)
1/4 cup ground flax seeds
1 packet (2 and ½ teaspoons) dry active yeast
1 cup hot water
1 tablespoon olive oil 
Add yeast to hot water and stir until it dissolves. Mix in the olive oil and set aside.
Mix dry ingredients in large bowl and then add the yeast and olive oil mixture. Mix and knead the dough for 5 minutes.
After done kneading, cover the bowl with plastic wrap or a towel and let it sit for an hour until it has risen.
After the dough has risen, break it up into four pieces. Take each piece and roll it out as thin or thick as you'd like. The thinner you make each piece, the crispier your pita will be. Bake 10-12 minutes or until golden brown.
Taking the time to make my own snacks has certainly contributed to this progressively healthy lifestyle of mine. I have found it makes me think more about the food I am consuming. It allows me to know what is going into my body rather than taking a risk with some prepackaged item with a 1,000-word list of ingredients.
Put some thought into the food you eat this month and your eating habits will most certainly change – if not a lot, at least a little.
Janice Daniels can be reached at [email protected]