ASI plans to bring farmers market to Sac State campus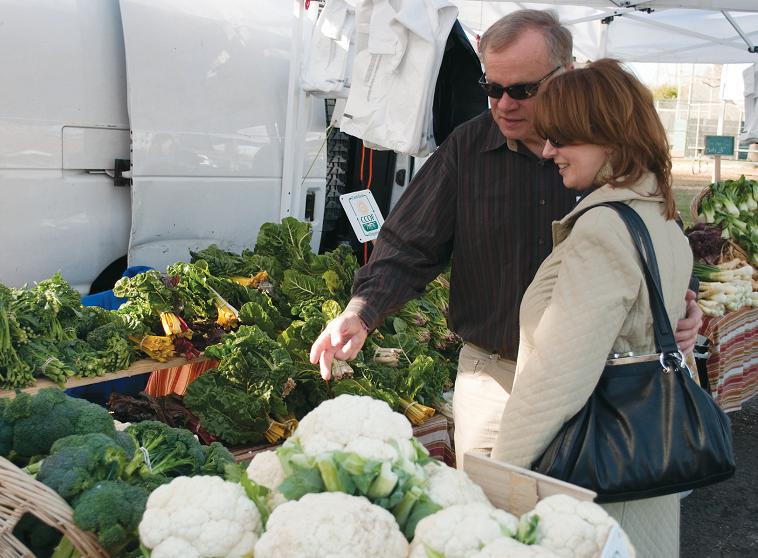 After a year of planning, Associated Students Inc.'s Green Team plans to bring a farmers market to Sacramento State this semester.
ASI Executive Vice President Blake Menezes, who is also the chair of ASI's Green Team and one of the lead planners of the farmers market, said although there is no definite date, the group hopes to hold the first farmers market on campus sometime in April.
"Students brought it forward as an idea. We discussed it amongst the board of directors and then we decided to push forward," Menezes said. "After discussing it with several on-campus entities, we decided that it was something we can make occur this semester."
The idea of a farmers market was brought to ASI's Green Team a year ago when several students expressed interest in having one as a Sac State event on campus. The farmers markets will consist of individual vendors selling produce grown locally or outside the Sacramento region.
Co-chair of the Sustainability Steering Committee Mike Christensen said it is great how ASI's Green Team wants to create a more sustainable campus by bringing a farmers market to campus. Christensen helps organizations on campus decide how they can contribute to a "greener" campus.
"What's exciting about this project is that ASI leaders accepted the challenge to find ways in which they could contribute to a more sustainable campus," Christensen said. "Of their own initiative, they came up with the idea of having a farmers market at Sac State and have actively pursued efforts to bring this project to fruition."
ASI President and board member of the Green Team Laura Gonzalez said the process of developing the farmers market involved many meetings about the direction the Green Team should take.
"The process involves many meetings," Gonzalez said. "We have dedicated time to gathering information from successful farmers markets on other college campuses, the needs and wants from students, faculty and staff, reviewing university, city and state policies, and being patient and willing to redirect our efforts."
Junior and nutritional peer health educator John Ramos said a farmers market on the Sac State campus would be beneficial for students, staff and faculty.
"I believe that a farmers market would have a positive influence on campus," Ramos said. "Sacramento State faculty and administration strives to increase the access to better health opportunities and a farmers market would be aligned with their mission."
Menezes said reception for the farmers market has been welcoming among those who know of the project.
"Overall, we have had a great response," Menezes said. "Students and faculty responded in a survey that we had last semester where 97 percent of those who took it wanted to have a farmers market out of the almost 800 people surveyed."
Menezes said with a successful survey, voters helped the decision to put the farmers market on the front lawn of The Well, where they will collaborate with ASI.
"We decided to have it here because the responses we received from the survey," Menezes said. "Also, we have discussed a working partnership with The Well so we can do cooking demonstrations during the actual farmers market."
Resident dietitian Shauna Schultz said having a farmers market on campus would be convenient for everyone who does not have time to do their grocery shopping.
"I definitely think it's a wonderful idea," Schultz said. "It's an easier access to fruits and vegetables for students, staff and faculty, and easier than having to go to the store."
Schultz also said along with selling all the fresh produce, the farmers markets will create a healthier vibe on campus.
"It's a great addition to campus because it promotes local and fresh vegetables and healthy eating," Schultz said. "It also promotes and supports local growers and is better for the environment."
The diversity of students at Sac State means there could be students interested in organic produce grown without harming its natural environment and farmers markets consist of mostly organically grown products, Ramos said.
"Sacramento State has a large population of students with varying interests," Ramos said. "Many students who attend campus already purchase local and/or organic products."
The farmers market would not only help students make better choices in terms of health, but they will help local farmers as well as the community.
"Opening a farmers market would exemplify Sacramento State's commitment to small businesses and local farmers, but more importantly to the role of the student as consumers in the community," Ramos said.
Gonzalez said the future of the farmers market is up to the reception it receives once it is on campus.
"This is an effort we in ASI are passionate about," Gonzalez said. "The reactions we receive from students, faculty, staff, Alumni and community members keeps us motivated to ensure progress on a farmers market at Sac State."
Camille Anglo can be reached at [email protected].