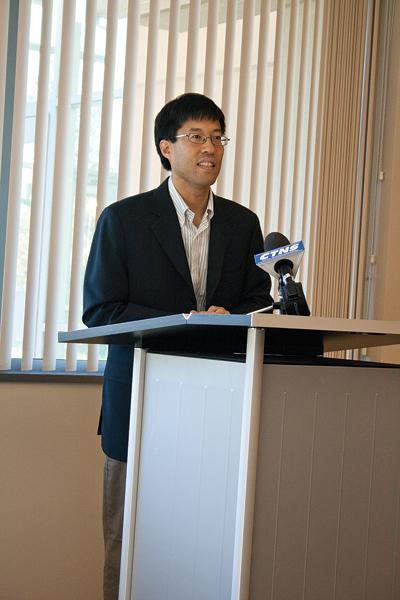 unknown
California State Assemblyman Richard Pan, D-Sacramento, moved his district office to Modoc Hall at Sacramento State this June in order to reach out to students on campus, as well as the community.
Pan, a licensed pediatrician and professor at UC Davis for 12 years, was elected in 2010 to represent District 5 (Sacramento, Citrus Heights and Folsom).
Pan chose Sac State as his district office because he believes it is the district's landmark, as well as to expand the opportunity to reach out to his constituents.
"I am here to serve the people and to be an engaged member of the campus community," Pan said. "As a district office, we offer a lot of services but we are also looking for opportunities to partner with people on campus as well as across our district."
Pan said he hopes being close to campus will encourage students and faculty to reach out and share their ideas about their university and community, either by coming into the office and getting involved or simply by writing a letter. Pan feels his presence adds a welcoming and convenient appeal for the campus community.
"When I was elected to represent assembly District 5 I was very excited that Sac State is part of my district," Pan said. "When we were looking for district offices I definitely wanted to have my office here on campus for several different reasons. For someone who is still technically a professor at a university, I wanted to create an opportunity for students to be involved."
Pan said he spent his time as a faculty member at UC Davis promoting community engagement and hopes to keep that going at Sac State.
"Being here at Sac State represents my interests in both supporting higher education and being able to reach out to students and faculty to figure out what we can do to work together," Pan said. "We welcome those that have ideas or things they want to share. We very much want them to come by; hopefully there will be something we can help with."
Brian O'Hara, Pan's press secretary, said he believes Pan is an asset to the school in troubling times, such as budget cuts and loss of programs through writing new legislature for congress supporting the school system.
"He was a professor at UC Davis so he knows what it's like to be a professor in the classroom," O'Hara said. "He understands what happens when you divert funds from the school and what kind of impacts that can have."
Pan chose a team of mostly Sac State alumni to support the school.
"The team of Sac State graduates bring a lot of different skills to the table," O'Hara said. "We all work together and support each other. I think he enjoys guiding young people through the educational and career path."
O'Hara believes Pan's past in both educational and medical fields gives him an edge over most assembly members.
Pan decided to run for assembly in 2010 after seeing the strain the economy was putting on his patients and students.
"Part of the reason I ran for the state assembly was because of the challenges I saw facing families as a pediatrician, but also as some of the challenges I saw as faculty for a California university," Pan said.
As a faculty member, Pan saw a lot of problems due to budget cuts, and wanted to instill advocacy for government with his students.
"I taught at community development on the main campus, where I was a member of the graduate group of community development," Pan said. "I developed a curriculum on community engagement for my trainees and received the The Thomas Ehrlich Civically Engaged Faculty Award for my work."
Pan said while he ran for office he experienced many of the problems he wanted to take action against.
"As a faculty member I saw the furlough days and cuts to educational programs, and those are things I was really concerned about, and still am concerned about now," Pan said.
Pan said he believes tuition hikes and cutting programs is going to hurt California in the end if they are not stopped.
"Studies certainly show that higher education is particularly critical for the California economy, so we really need to look at how we can invest more," Pan said. "The tuition increases are making it less accessible."
Pan said he believes California should revert back to the spending strategy of keeping higher education a top priority.
"I believe in the Master Plan that California developed," Pan said. "That was the investment previous generations had made, unfortunately we are moving away from that in making higher education less accessible and that is going to hurt California's competitive edge."
Kaitlin Bruce can be reached at [email protected]