Stylist Gina Sanchez shares fashion philosophy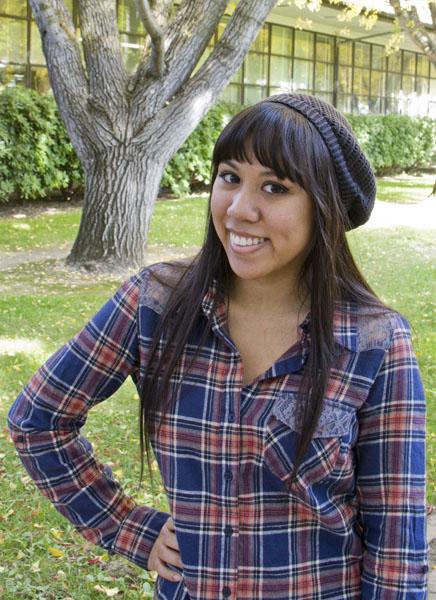 On Tuesday, sophomore apparel and marketing design major Gina Sanchez will be debuting her styling skills at the "Midnight Masquerade" fashion show put on by the Student Fashion Association.
When did you become interested in fashion?
At the age of six I always knew I wanted to be an artist. By the time I got into the sixth grade, I started developing my own identity and individuality (with) which, in turn, I started to express myself more through the way I dressed.
What is your favorite thing about being a part of the fashion industry? What would you eventually like to do in the fashion industry?
I like the artistic part of the industry, so being able to have the freedom to dream and create the way you want is my favorite part. I would love to do design; I enjoy making my own clothes as well as my own costumes. I love making costumes and putting unique and different perspectives into garments that would be commercial and salable.
However, all designers have to be stylists, too. They have to know what looks good with what accessories, make-up and more. Styling for the fashion show is just as important to me as if I were to design for it because both roles go towards what I want to do for the rest of my life.
Who are some of your favorite stylists or designers?
I must say Karl Lagerfeld and Betsey Johnson, but my likes and tastes are never consistent. They are always changing.
Who has inspired your creativity and goals?
I think everybody and everything that has come across me in my life – even the small things or the painful things – has inspired me in one way or another. My family and friends, who have the utmost faith in me and who have been supporting me since day one, have been my drive. But, to the people who didn't support me, well, they are part a of my drive too. I want to prove them wrong as much as I want to make the people who love me proud.
What is your design philosophy?
With design and styling, I'm not really the minimalist. I like extravagance and making a huge statement; I want to go big. You know how everyone quotes that part of Shakespeare's 'As You Like It' monologue? "All the world is a stage, And all the men and women merely players"? I want to dress those men and women; I want to provide them the attire to take on their roles.
What are you most excited about for the fashion show?
This is actually my big debut in the fashion show! I have helped out behind the scenes a previous semester, but this time I'm actually going to have people know my name, even if it is for just for one night.
What is fashion to you?
Fashion is my art and choice of self-expression. It is what I use to say about myself when my words cannot say it for me. However, fashion is a part of everyone, despite what others say. It is the way we dress, whether we are aiming to dress how they do in magazines or not. If you are putting an effort into your wardrobe, if you are trying to make a statement, and if you are dressing yourself to have a certain image or just to look good, then fashion is a part of you.
Janice Daniels can be reached at [email protected]