Broadacre is coffee perfected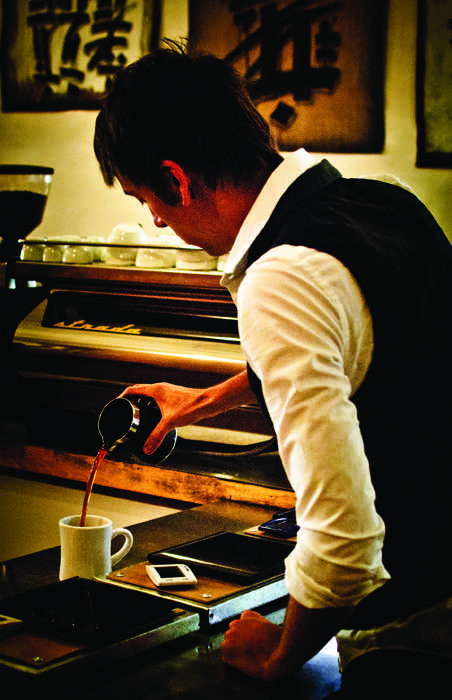 Four guys have just one mission: brew quality coffee for residents of Sacramento to enjoy. After opening Broadacre Coffee's doors Sept. 30, these baristas plan to brew a storm of delicious coffee.
What makes this shop truly special is it is owned by four baristas. The owners – Justin Kerr, Lucas Elia, Jacob Elia and Andrew Lopez – all strive to not only make excellent coffee, but give great customer service in the process.
"Everybody that works here is an owner. It won't stay like that forever but it is definitely a passion project for all of us," Lucas said. "We're basically baristas, that's our craft and it is our passion."
Finding Broadacre Coffee isn't always easy. This new, locally-owned café, found at 1014 10th St. between J and K streets, only has a green sign propped up outside the door to let people passing by know this amazing coffee shop exists.
The inviting and homey feeling of the café sets the perfect ambiance for students who want to escape from campus and other distractions. The café's sharp designs and modern wall art appeal to customers both young and old. With a minimalistic approach to the interior design, the atmosphere of this coffee shop is open, making it a great place to study.
"Our shop features 10 different coffee beans from four different quality-focused coffee roasters throughout the country," Elia said. "The four different brewing methods used puts them above their competitors: Chemex, Aeropress, French Press and V60."
Most coffee shops, especially corporate ones, offer their own loyalty program rewarding customers with free drinks on their birthdays and other such perks. Not this café. The owners plan to start a "disloyalty" card program in the near future. In order to earn a free coffee from the shop, the owners challenge their customers to visit other quality cafés, such as Temple, and get stamps from each. When customers have visited all the competitors, they can come back to Broadacre to get a taste of the finest quality coffee in town.
What makes drinks taste extra yummy at Broadacre is rather than blending multiple types of coffee beans together to achieve the perfect taste, these guys make sure to buy quality coffee beans that are delightful in their own right.
The café has a few specialty drinks for customers to enjoy. A personal favorite is the lavender latte. I am not a huge fan of sweet drinks. However, this one mixes just the right amount of sweet lavender taste with delicious latte flavors. For a special twist on a classic drink, order the lavender infusion. It adds a taste that makes one sigh in contentment as he or she drinks it. Also, the lavender hot chocolate is great for those who do not like coffee.
This shop has become not only the talk around town but apparently even as far as Oregon. Justin Cowan traveled from Oregon and heard about the coffee shop from a friend who had said it is a must-stop location in Sacramento.
"Not everywhere serves Gibraltar coffee," Cowan said. "The consistency is between a macchiato and cappuccino. This is probably the only place in town that knows how to make one."
This shot of coffee, however, is not on the regular menu. It is a special-order drink. Elias said the drink is something you have to ask for and know about beforehand. Even though the shot is $3, it is worth every penny. Trust me when I say if you like rich, heavenly coffee, you have to ask for this rare shot.
For the same or even cheaper price than chain brands, students can afford to sip on delectable coffee and revel in its luscious taste. With amazing customer service, delicious drinks, scrumptious coffee shop treats and great atmosphere, this café is a great find for students.
Chanel Saidi can be reached at [email protected]