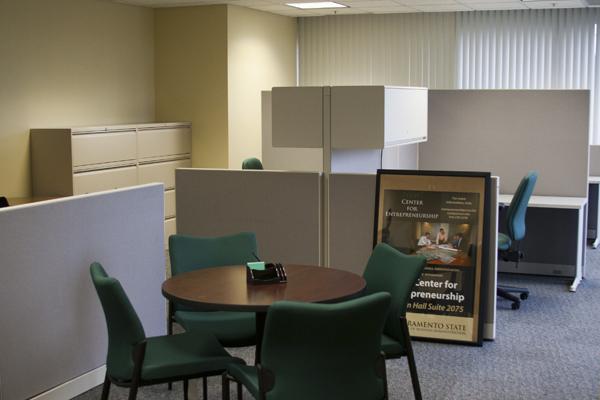 Joseph de Ocampo
Sacramento State is in search of prospective start-up businesses for the recently opened Center for Entrepreneurship.
The center is new, but no additional funding was required to start it. The unoccupied space within Folsom Hall was restored and the center took the furniture formerly owned by the California State Teachers' Retirement System, the building's former occupant.
Associate Professor of Entrepreneurship Seung Bach said the plans for the center began a year and a half ago.
Bach has been working with Sanjay Varshney. the dean of the College of Business Administration, to start the center within the business program at Sac State.
"This is yet another effort on our part to reach out to the community," Varshney said. "Something that will basically have a huge impact not just on what we do but on the community itself."
A term for the center is a "venture incubator," which provides the start-up business with some necessities businesses need to grow: office space, printers and fax machines.
"Every business starts as a baby," Bach said. "You have to nurture it for it to grow."
This concept for start-up businesses is how the venture incubator received its name.
Bach said he wants the center to help with the struggles that start-up businesses face, like the lack of resources, connections to other businesses and office space.
These necessities will come along with a network of volunteers, advisory board members and mentors brought in by Bach and Varshney.
Hana Cho, managing director of the center, will be helping the start-up businesses with their needs and access to resources.
Cho will assist the entrepreneurs by networking them with local businesses.
"We need to get some information about their needs," Cho said. "Because every operation is going to be different."
While working as a part-time instructor at UC Davis, Cho noticed the school had a good entrepreneurship center for students. Being a Sac State alumna, Cho, along with other faculty, wished to bring a similar resource to Sacramento.
Business major Trent Davidson has been working as a volunteer for the center.
Through having a concentration in entrepreneurship in Sac State's business program, Davidson heard about the center while attending one of Bach's classes.
Davidson is working on a business plan with his wife in which they are seeking feedback, access to networks and resources for help in their own start-up idea.
"I lived in Brazil for a while and my wife and I are going to go back to the area," Davidson said. "We are going to open an English school to teach the people."
As a volunteer, Davidson has been researching entrepreneurship programs and centers around the country to see what they do.
"Some of it's really amazing: the community involvement and the success of the centers and how businesses are actually launched and secure tons of financing," Davidson said.
Cho said this venture incubator is a step up from the rest of the entrepreneurship programs in that it provides space, necessities and resources.
The chosen entrepreneurs will be given office space at the center for no longer than six months.
However, if the candidate has shown promise or progress but the candidate has not achieved his or her goals, an additional six-month stay may be granted.
Varshney said a third of the jobs in the Sacramento region are governmental. The other two-thirds make up the private sector for Sacramento, which has few large companies: Sutter Health, Kaiser, Raley's, Intel, Hewlett Packard and Aerojet.
"There is a very strong entrepreneurial presence in Sacramento," Varshney said. "Eighty-three percent of the employer firms in Sacramento have fewer than 20 employees."
With this center, Varshney and Bach hope to lend a hand to the next generation of risktakers in Sacramento as well as increase the entrepreneurial presence already here.
The entrepreneurs that Varshney and Bach are looking for to help incubate are start-ups that are too small to show up on the radar of some of these more formal operations in Sacramento that want to see more of a track record.
"Early-stage companies with no more than one year in development particularly in the niche industries is what we are looking for," Bach said.
The person applying for this venture incubator would involve someone who is interested in technology, the green sector, energy efficient firms and biotechnology firms.
"We are looking for anybody who basically needs space to promote their business model that is nontraditional," Varshney said.
Scalability is also another big factor in the selection of the prospective entrepreneurial idea: the likelihood or possibility for economic growth within the start-up company.
"Sacramento is dying for what we are doing right now," Varshney said.
Colin McAteer can be reached at [email protected]