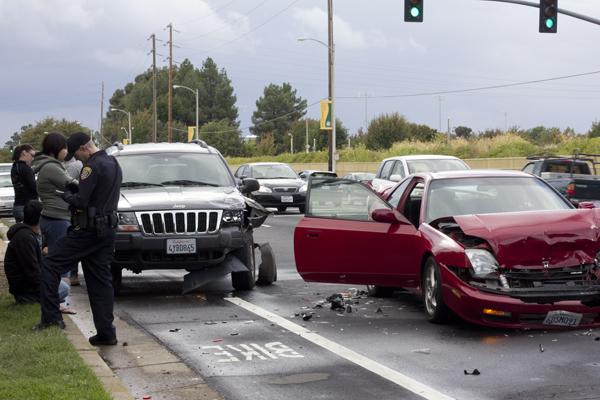 Robert Linggi
A pair of car accidents near Sacramento State Wednesday around 3:30 p.m. damaged seven vehicles, involving multiple drivers who are students at Sac State.
The accidents caused traffic on campus to jam into a standstill.
Near the south entrance of campus on College Town Drive across from the E.A. Fairbairn water treatment plant, four cars were involved in chain reaction severely damaging three of the cars. There were no injuries in the crashes.
A Jeep Cherokee's left front end smashed into a Honda Prelude, which crumpled between the Cherokee and a Honda Accord. The Accord then slammed into a Lincoln LS V8, causing severe damage to the Accord's front end.
"I got hit, looked up and got hit again," said senior communication studies major Brian Hunt. Driving the Lincoln, Hunt's car was hit last and the only one to suffer minor damage.
"I looked in the rear view mirror and I saw the car coming fast," said junior social work major Christian Rodriguez.
Driving the Accord, Rodriguez said she usually walks to school but just happened to pick her friend up.
Around 4:10 p.m. Sac State police officer Matthew Light arrived on scene to get all the drivers' information.
"I wanted to make sure everyone was OK because it was blocking the road," Light said.
Since the accidents were off campus, Light said the incident was under the jurisdiction of the Sacramento Police Department.
The drivers of the Jeep and Honda Prelude confirmed they were Sac State students but declined to give their names or comment on the accident.
Senior art studio major Lindsey White was involved in the accident at the J Street Bridge, near the north entrance that involved a Saturn, an Accord and a SUV. One person was seen walking into an ambulance without assistance.
"Nobody wants to get in a car accident," White said. "It sucks balls."
White said she blamed the rain for the accident. 
"The first rain always makes the roads slick with oil," White said. 
Mitchell Wilson and Sean Keister can be reached at [email protected]