LoCash Cowboys brings honky-tonk style to Sac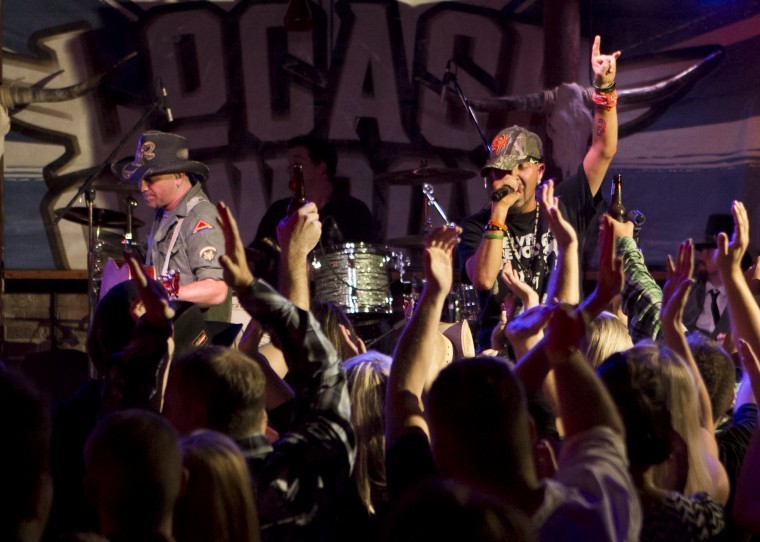 Although many Sacramento State students may not have heard of LoCash Cowboys, it is an up-and-coming band on the rise in Nashville. Preston Brust and Chris Lucas graced Sacramento country fans with a phenomenal performance at Stoney Inn on Oct. 12.
The duo started their careers in the music industry in Nashville, choreographing for big names such as Toby Keith. They met at Wild Horse Saloon in Nashville and hit it off right away. Their bond is so strong that they refer to each other as "brothers."
The origin of the band name shows how they have not lost touch with their modest beginnings. "LoCash" to them means things that are either free or lower in dollar amount are the most valuable things in life.
One of the greatest aspects of LoCash Cowboys is although Brust and Lucas have a tremendous on-stage performance; their offstage mentality is humble. Working for philanthropic causes such as St. Jude Children's Hospital, World Vision and D.A.R.E., the men never want to lose touch with what really matters.
"What we thought was celebrating success for ourselves seemed like nothing compared to what we are doing for (charities)," Lucas said. "Those are the moments that you call your parents and friend and tell them what I did today really touched me and you share it and they pass it on."
The men never take for granted the many blessings they have been given throughout their rise to fame and life in general. The most important blessing being their family and their own health as well as close relationships with people they love.
"I would do anything for a father or mother that has an unhealthy child," Lucas said. "If someone came up to me and said my child is sick, Preston and I would do whatever it takes (to help them)."
The duo interacts with their fans throughout their performance. During their set list they picked out fans having mini conversations with them between songs, switching out cowboy hats with people and having a blast. One of their fans in particular was singled out multiple times throughout the performance.
"Who knows what's going on in your life? Everybody has sorrow, but we want to take that person and say, you know what? It may be bad tomorrow," Brust said. "But let's have fun tonight. If we can do that, it's the most amazing thing."
Their song, "Keep In Mind," peaked at No. 34 on the Billboard chart on March 26. A beautiful ballad about remembering your roots and where you came from, it perfectly describes the band's underlying mission: to never forget where they came from. When Brust and Lucas originally heard the demo song they knew it had to be theirs. Throughout the music video they show pictures of fans with people they love.
"We are nothing without (our fans). I mean absolutely nothing," Lucas said. "It's all about them; they are why we do what we do. We do it to make people understand that others have been where they have been."
Jeffrey Steele is one of the biggest names in country music. Steele has produced songs for big names such as Tim McGraw, Rascal Flatts, Zac Brown Band and Steve Holy. While all of Nashville is trying to slip him a single or attempting to work with him, these two men are lucky enough to have him on speed dial.
"I think the three of us found each other at a time when (we) needed each other. The music is just happenstance because of what is going on with us as friends," Brust said. "We are lucky to do the extra stuff which is the music, the biggest part is the friendship."
One of the most important aspects their successful working relationship is that they are such a tight-knit group. Their friendship strengthens their work ethic in the studio. As they feed off of their fans' energy when they perform it is harder to adjust to the studio atmosphere. Steele has taught them a lot about the industry and become a mentor for the duo.
"Behind the scene we have this triad that is bigger than the music and bigger than LoCash and it is more about life and helping each other through a lot of hard times," Brust said.
Their performance kept the audience going as they performed songs such as Cee Lo Green's hit "F— You" and Prince's "Purple Rain." They really got the crowd going with their rendition of Garth Brooks' "Friends In Low Places," as the bar joined in singing louder than the band.
Bringing their energy into the studio along with Steele's creativity has worked in the Brust's and Lucas' favor. The two men bring two very different opinions of the recording process. Lucas favors treating the studio as an intimate concert for fans while Brust enjoys the musical playground the studio offers.
"I close my eyes (when recording) and believe I'm in front of a not a million people, but ten people that I want to relate to what I'm singing," Lucas said.
The two men strive to never forget their roots and the fact that they would be nothing without their fans. As Brust and Lucas kick off their international tour, LoCash Cowboys is a band to watch out for.
Chanel Saidi can be reached at [email protected]