Hornets blow 15-point lead, lose in overtime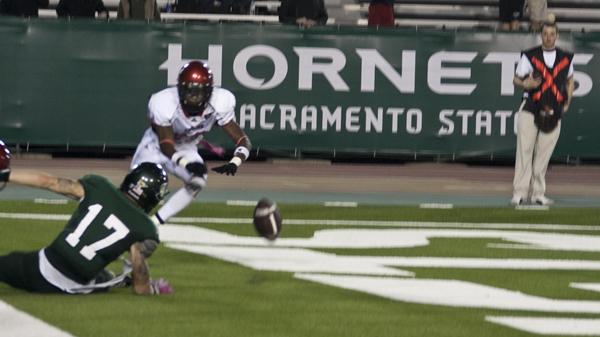 Down to their final play in overtime, with their playoff hopes on the line, the Hornets' best player was holding a clipboard.
Injured quarterback and team leader Jeff Fleming watched from the sidelines as back-up quarterback Tommy Edwards' pass went off John Hendershott's hands in the back of the end zone, sealing the win for the Eastern Washington Eagles.
Sacramento State lost its homecoming game 42-35 in overtime tonight in front of 10,705 fans at Hornet Stadium.
The Hornets (3-4 overall, 2-3 in the Big Sky) were up 15 with 3:07 left in the third quarter, but could not stop the Eastern Washington (4-4, 4-2) offense late in the game.
The Eagles were led by the Big Sky Conference's leading passer, Bo Levi Mitchell, who threw for 357 yards and four touchdowns, all to Nicholas Edwards, in the win.
Young quarterbacks can learn a lot from watching Mitchell, Tommy Edwards said.
"He's fun to watch when you're not playing against him," Edwards said. "But he's fun to watch on film. There's definitely things you can learn from him. He's real smart, a real poised kid."
Edwards and true freshman Garret Safron formed a formidable quarterback duo for Sac State on a night strong quarterback play was not expected.
Fleming, known for his ability to make plays with his arm and feet, left dynamic shoes to fill for his replacements.
Edwards, a redshirt sophomore from Sherman Oaks, was effective through the air, completing 18 of 26 passes for 223 yards and two touchdowns.
Edwards attributes his strong play to his preparation.
"I watched so much film I ran out of film to watch," Edwards said. "I don't think I've ever prepared for a game as hard as I did today."
Preparation and completing his first six passes in the first quarter helped Edwards' confidence in his first start since 2009, when he started at The Citadel in South Carolina.
Safron, who completed the only pass he attempted, did all of his damage on the ground. Safron ran the read-option to near perfection, rushing for 100 yards on 15 carries and one touchdown, the first of his collegiate career.
"I was very excited to go out there (and) show my ability," Safron said.
Safron said both he and Edwards looked to Fleming for guidance.
"Fleming was definitely a major role model to us," Safron said. "We actually made a joke about me and Tommy equalling Jeff's ability. He came up to us after every series (and) gave us some tips, things we missed, things that are good."
Despite the loss, head coach Marshall Sperbeck said he was happy with the quarterback play.
"Any time you go into a game with two new quarterbacks and neither one of them has turnover that's a positive night," Sperbeck said.
Sperbeck was not as positive about the kicking game.
Kicker Jason Diniz missed both his field goal attempts, one of which would have won the game as time expired.
"It hurt us tonight," Sperbeck said. "(We) had a couple opportunities there. Those points add up."
The Hornets play Northern Arizona on Saturday at Hornet Stadium. Kickoff is at 6:05 p.m.