Cross country has close relationship with track and field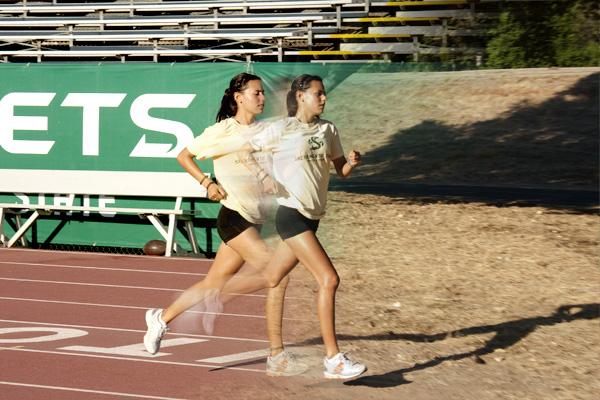 Katie McMillin
October 5, 2011
The cross country and track and field teams experience a crossover unlike any other sports on campus – training year-round and usually seven days a week.
"We have just a couple weeks off," said men's cross country captain Cole Younger. "At the end of track season we have a couple weeks off, then (again) at the end of the summer, and then you start training for cross country season."
The cross country team begins training at about 6:30 a.m. every day and continues for three hours – including putting in time at the weight room. The cross country season ends in late November, while the indoor track and field season starts up immediately afterwards in January and the outdoor season begins in March.
Sophomore Lauren Mugnaini runs the 5,000-meter race in cross country and track, and said the training is similar during both seasons. The practice intervals for track are shorter and run at a faster pace, but last the same the amount of time.
The main difference is location.
"(With) cross country, our coach likes to keep us off of the track with intervals," said women's cross country captain Rachel Mitchell. "We do most of our workouts on the (American) River or on the bike trail."
Mugnaini said the biggest difference in the sports is the number of runners in the races.
"There are so many more girls in a cross country race than a track race," Mugnaini said.
Mugnaini said running up and down hills in cross country makes competing in the sport harder.
Running track has different challenges. Younger, who runs the 800- and 1,500-meter in track, said he needs to run at a much faster pace in track.
"(Track is) more technical and it's more the decisions during the race that ruin or make your race," Younger said.
Mitchell said cross country is more team-oriented because she practices with the entire team instead of just training with the specific events groups in track.
Mitchell has led the women's cross country team in every meet so far this season. She said another major difference between the sports is the lengths of the meets.
"The track meets are longer and take up more time," Mitchell said. "We'll leave on Fridays and we'll get back on Sundays. Cross country, other than the conference meet, we'll just leave on Saturday and then we'll have meets on Saturdays. We have more of a full weekend during cross country, but in track you have to set aside your whole weekend, like Friday, Saturday and Sunday for traveling and stuff."
Younger, who was named the Big Sky Conference men's cross country runner of the week Sept. 28, said it's good to have the support from the track team.
"It's good to know that there are people that are cheering you on and the track team always comes to our (cross country) home meets and I think it's like a big help, really motivating to hear everybody cheering for you," Younger said.
Sophomore Reesey Byers, who specializes in the 5,000-meter, said he agrees.
"I think it's great," Byers said. "When going in, I thought it'd be separated by all the different fields – but no, I was really surprised. We practice at different times, but when we do see each other, we talk a lot. We talk about what we need to do for each meet and stuff. They're all older guys, so you know, I look up to them, and I think it just helps build us to be closer as a team."
Mitchell, who runs the 1,500- and 5,000-meter and steeplechase on the outdoor track and field team, in addition to cross country, said there is strong support from her track teammates during cross country's home meet, the Hornet Jamboree.
"A lot of times before we go to the conference championships, (the track team decorates) the locker room for us," Mitchell said. "We don't see them really because we practice in the morning because of the heat and they practice in the afternoon, but they're a good support system for us."
Katie McMillin can be reached at [email protected].