Construction in progress for water line near the University Union and Library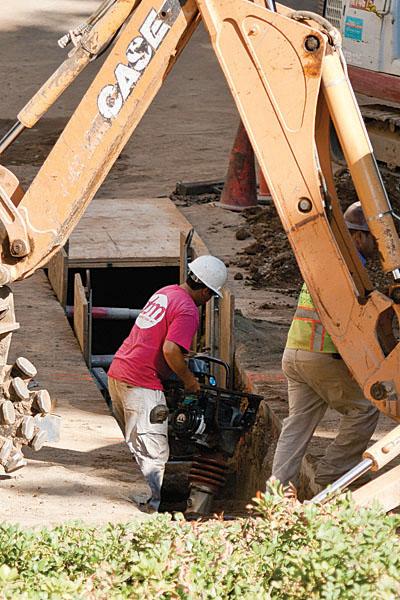 Construction taking place at the walkway between the University Union and the library to relocate the waterline may cause a temporary inconvenience for students.
The existing library water line runs directly below the redwood trees between the library and the university union.
"It is an old water line that is prone to constant breakage due to the growth of the tree's roots," said Todd McComb, the facilities services interim manager.
Sac State will save time and money on repairing the old water line by relocating it to the other side of the Library.
This will be at least a four-week process for contractors, with potential setbacks from the rain.
"The contractor plans on excavating, placing pipe, pressure testing pipe, backfilling in each of the three phased areas and relocating the perimeter fencing for each phase," McComb said. "After all the pipe is in the ground, the tie-ins at each of three locations will be the final component to complete the work."
The original phases were set to start with phase one going from Sept. 12 to 23, phase two from Sept. 26 to 30 and phase three from Oct. 3 to 7.
"The contractor is currently running about one week behind schedule due to having to dig much deeper than originally planned to avoid existing utilities," McComb said.
Use of heavy machinery has been causing some noise disturbance among the offices near the work site but classrooms have not had the same problem.
"With all the foot traffic and noise from the rain I don't even notice the project," said Christopher Conyers, a math major.
During phase three of the water relocation the main pedestrian walkway between the Union and the Library will be closed. There will be detour signs in place for pedestrians and cars during this time.
"It's really inconvenient to have my usual path to class blocked off, especially since I don't know the exact days they'll be working," said Crystal Wieczorek, a freshman psychology major.
This will redirect traffic for thousands of students on phase-three days, causing vehicular and pedestrian slowing.
"I wish it was better advertised beforehand because I didn't even know until I walked by," said Wieczorek. "At least I know now so I won't be late for class."