Baseball and softball optimistic after dismal seasons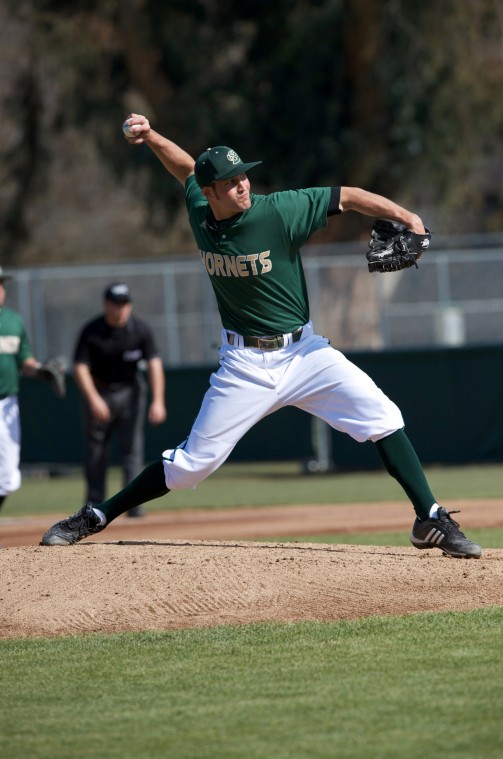 Sacramento State's baseball and softball teams have been mired in offensive slumps for most of the season. Even though both teams finished shy of their preseason goals, each ended with hot bats and are optimistic for next year.
"We've got a young team, so we have a promising future," said sophomore infielder Andrew Ayers. "We're going to grow and it's exciting, but you can't keep looking forward. You have to keep working hard (now)."
With one series left in the season against Louisiana Tech University, the baseball team could finish in last place in the Western Athletic Conference this year with a current record of 17-33.
There were 11 freshmen and five sophomores on the baseball team this season and teammates agree that their development will be a key factor for the Hornets' future success.
Sac State's catcher Derrick Chung said returning freshmen players, such as David Del Grande and Will Soto, will be valued assets for next year's squad. Soto received Western Athletic Conference Hitter of the Week for his batting from May 2 to May 6.
"All these younger guys like Soto, for example, have been tearing it up," Chung said. "These guys are starting to figure it out and they're going to play summer ball and get better. They'll get more at-bats and get more experience."
Chung said the young players on the team are still adjusting to the speed and quality of the pitchers at the college level and the more they play, the better they will become.
Chung said Ayers is a good example of a young, inexperienced player coming into the program who is now excelling.
"(Ayers), for example, played every single day and he's gotten a lot better," Chung said. "I mean, he was always talented, but he's one of our main hitters now. Same thing for (Del Grande) and Soto."
Aside from having a team lacking in experience, the injury to senior designated hitter Trevor Paine contributed to the team's losing record.
During a batting practice session earlier in the season, Paine felt a snap in his wrist that ended his season. Paine, who is the team's cleanup hitter, is in trying to get another year of eligibility because of the injury.
Other players are planning to work to strengthen their bodies.
Chung said he is going to spend the summer strengthening his legs because he was not expecting to catch as many games as he had this season. After making the transition from infield to catcher, he said his legs are "done."
"I wasn't ready for (catching) this year. I didn't think I was going to be catching every day," Chung said. "Now I know what I need to do and what I need to work on as a catcher."
Head coach Reggie Christiansen said he knew the team was going to have lulls, but he does expect the team to rebound next season.
"We knew going into the season we would have ups and downs because we were going to be very young," Christiansen said, who is just completed his first year as the team's head coach."I really like who we have coming back. Some of our younger players earned valuable experience and will be much better a year from now as a result."
The softball team had a young group as well, with five freshmen and five sophomores.
Pitcher Taylor Stroud won The State Hornet's Freshmen Female Athlete of the semester by leading the team with 67 strikeouts and also threw 12 of the team's 19 complete games this season. Stroud said this season was a learning experience for her, but the team is eager to win next year.
"Of course (we want) to try and win conference and to keep what we have going," Stroud said. "We have so much talent on this team. We need to just trust ourselves that we can do it."
The softball team displayed some real talent in its bats winning seven of its final 10 games and tallied 28 runs in the final series of the season against CSU Bakersfield. The team ended the season in third place in the Pacific Coast Softball Conference with a 12-8 conference record, and a an overall 20-24 record.
Graduating seniors, such as pitcher Megan Schaefer, will now hand over the team to next year's upcoming senior class. Current junior first basemen and team captain Alyssa Nakken is ready for the challenge that 2012 will bring.
"I have one more chance to get a ring. This is very important to me," Nakken said. "It's a huge goal to be the best in your conference in any collegiate sport."
Nakken said saying goodbye to her senior teammates after winning the last game of the season against Bakersfield was emotional for her.
"Yeah, we won, but it was such a hard day knowing that we will never play with them on the field again," Nakken said. "It was very tough saying goodbye. We are definitely going to miss them."
Turning the page on two disappointing seasons, players on both teams have said they will work hard in the offseason in hopes it will pay off next year on the diamond. Christiansen will be busy as well.
"College baseball games are won and lost on the recruiting trail," Christiansen said. "We will spend all summer out recruiting better players."
Similarly, both teams are going to have to rely on the progression of their young squads to make a run at a conference championship.