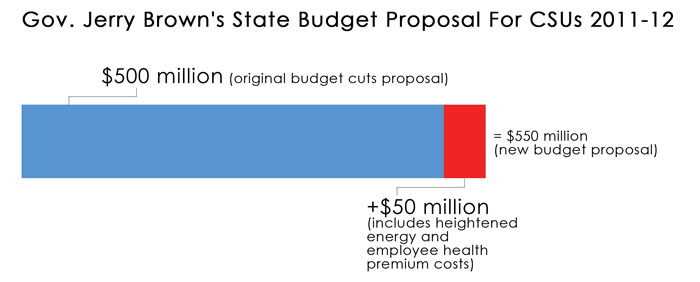 Consideration is under way at Sacramento State on how best to handle Gov. Jerry Brown's proposed year-to-year reduction of $500 million in CSU funding for the 2011-12 school year.
After $50 million in mandatory additional costs, including heightened energy and employee health premiums, have been factored in, the CSU will actually need to address a $550 million total gap in funding.
Kimberly Nava, Sac State spokeswoman, said it is too early to tell exactly what kind of effect this proposal will have.
"We are not certain yet how a cut of this magnitude would affect Sacramento State specifically – and it is our hope that it doesn't come to that," Nava said.
Olivia Estrada, junior photography major, is not surprised by the possibility of further funding cuts.
"With what's been going on the last two years, it makes me angry. But I'm not shocked," Estrada said. "I don't think they have any consideration for us at all. It's all financial."
At a March 22 CSU Board of Trustees meeting, university officials looked at a number of strategies of how to deal with the governor's proposed cuts to CSU funding.
According to Legislative Analyst's Office, the following recommendations were made if state support for the CSU is cut: a 5 percent reduction in budgeted enrollment levels (which would mean 20,000 fewer students served), a tuition increase of 10 percent or $480 per year (generating an additional $120 million) for undergraduates added to the increase already in place for fall 2011, and a 5 percent decrease in faculty and staff compensation (saving up to $158 million, but only if negotiated and put into place almost immediately).
Even with all of these recommendations enacted, the CSU would still have a $162 million shortfall.
John Kepley, director of public affairs, said these proposals are not actions the school could take on a campus level. He said tuition and enrollment targets are set by the chancellor's office, and faculty and staff compensation are for the most part prescribed by collective bargaining agreements.
"Based on the $500 million proposal, the University Budget Advisory Committee is asking all divisions to plan for a 9.7 percent reduction, or about $12.88 million," Nava said. "Divisions are now preparing those plans."
Alex Yu, senior chemistry major, said he is not surprised by the likely cuts. He said it is best if students try to graduate as soon as possible before things get any worse.
"They've been saying 'We're OK,' but tuition keeps increasing," Yu said. "Seems like the more they cut, the further we are from the budget."
Yu said he is now numb to the process.
"We can't really do anything about it," he said. "We can go on strike, but we need our diplomas. We need school."
Kepley said Sac State is planning for the cuts outlined in the governor's budget proposal.
"The work we have done to prudently manage the campus budget has left us in a relatively better position to handle our share of the current proposal's cuts," Kepley said. 
Kepley said the administration has decreased expenditures on many levels. He said, for example, it has ensured that enrollment is not too small or too large, and resisted the temptation to use one-time funding for permanent spending commitments. 
"President Gonzalez also works closely with the University Budget Advisory Committee," Kepley said. "The faculty, staff and students on the committee have gained valuable experience in recent years as our campus has weathered cut after cut."
Gonzalez originally addressed Sac State about the proposed budget cuts during the Spring Address held in the University Union.
Jenna Mahoney, junior psychology major, said she is most disappointed with the number of courses that have been cut, resulting in larger class sizes.
"It's not about the quality of education," Mahoney said.
Nava said the school is doing all it can to keep cuts to a minimum. She said going by the proposed $500 million reduction to the CSU system, Sac State continues to plan for a 2011-12 enrollment target of 21,625, about the same as the current year.
"We are working very hard to limit the CSU's reduction to $500 million," Nava said. "President Gonzalez, Chancellor Reed and other CSU officials are communicating regularly with state legislators – with the message that California needs to invest in public higher education to ensure future economic prosperity. "
Daniel Buchanan, senior business major, said he can see where the school is coming from, and it needs to save money and look at all options.
Buchanan said he favors cutting enrollment levels so more seats would be available, but is not sure about the recommendations that would cut the salary of professors.
"You want well-educated people teaching. It's going to have a bad effect on future leaders," Buchanan said. "Sac State is already one of the cheapest universities to attend. It might even be a way to improve the prestige of the school if they increase tuition."