Softball head coach acts as pioneer for women athletes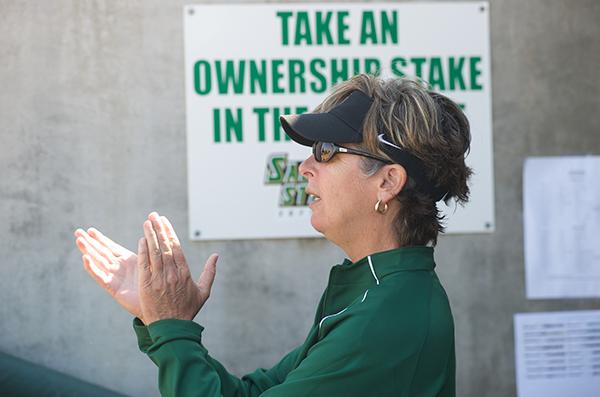 With a passion for sports, Kathy Strahan pioneered through the 1970s and paved a way for women athletes.
Strahan, who has 18 seasons as head coach of the softball team at Sacramento State, said the sport has evolved greatly from when she first started playing. Born in Lansing, Michigan, in 1957, Strahan began playing softball when she was 10 years old at a time when women's sports were less organized than today.
In the 1960s, most girls played because it gave them something to do during the summer months and having fun was the main priority, Strahan said. Now, girls practice and train with one goal in mind: to earn a scholarship &- something that wasn't an option for women when Strahan was in high school.
"Now, if you have a young (girl) who's looking like they're going to be good, they have to have a hitting coach, a conditioning coach, and they have to be on a travel-ball team at about $3,000 for the summer," Strahan said. "It wasn't like that back in the day. It was just an innocent play because you love to play."
When Strahan was growing up, her parents knew she was going to be an athlete when her dad would pitch to her in the backyard. She picked up the game quick by bombing balls over the house into the front yard. Strahan's uncle said she looked like Babe Ruth when she swung the bat.
That kind of encouragement inspired her to stick with playing even with only five girl teams in the entire Lansing area. By the time Strahan was in high school, she had a strong arm and good ability to play the game. So good, she decided to try out for the men's baseball team and made the cut.
"I wasn't trying to prove anything. If I would have thrown hard I could have really hurt (one of the girls), so I played baseball," Strahan said. "I just wanted to play with athletes."
Although she was not a starter on the baseball team, she rotated as a utility player in the infield. Strahan said the skill level on her high school softball team was very rudimentary during that time, which is a stark contrast to the abilities of today's young female athletes.
She then went from Harry Hill High School in Lansing to play college softball at Michigan State University. Even at MSU there were clear indications that times were different back then. The only thing the university provided her was the uniform on her back. All the equipment was her responsibility to buy, whereas athletes today have nearly everything provided for them through sponsorships or via the university.
"When (Strahan) was going to school there weren't women's programs that you could participate in and earn a scholarship for," said Senior Woman Administrator Lois Mattice.
However, it wasn't until Strahan's junior year of college in '76 that she received scholarship money for her efforts on the diamond. This was a result of the women equality policy Title IX going into effect.
"I think at that point with Title IX we were starting to feel the trickle-down effect and it was starting to impact us in getting scholarships," Strahan said. "My softball coach sat me down and said "You know what, we are going to pay for your tuition here,' and I said "Wow really, thank you so much. That will really help my parents out.' Now (scholarships) are expected."
Signed into law in '72 under President Richard Nixon, Title IX was a breakthrough for women's rights. The law states, "No person in the United States, shall on the basis of sex, be excluded from participation in, be denied benefits of, or be subjected to discrimination under any educational program or activity receiving federal financial assistance."
The enactment of Title IX was indication that times were changing, not just for Strahan, but also for the fabric of our country. Strahan didn't know it then, but Title IX would come back to aid her again later in her life as a coach at San Jose State.
During her time at MSU, Strahan won the national championship in '76. She also played on other teams in the offseason. She won four national ASA championships and was a gold medal recipient in '79 for her play in the Pan American games in Puerto Rico.
"Having the U.S.A. on your jersey is the uppity of playing the sport," Strahan said. "It's just the pinnacle; it was amazing."
For her efforts on the field, Strahan was inducted into both the Michigan Amateur Softball Association Hall of Fame and the Greater Lansing Sports Hall of Fame, which has also inducted Magic Johnson as a member.
Strahan graduated from MSU with a bachelor's degree in '79 and a master's degree in '82 &- both with honors, in physical education. Being a good student is something she credits to her parents, but also tries to instill in the women on the softball team at Sac State. She keeps the girls accountable by requiring study hall if their GPA slips and reporting grades to coaches weekly because Strahan understands each girl should have a plan after softball.
After college, she set out to coach and stopped at a few California teams along the way. First at CSU Dominguez Hills, where she turned a slumbering program around and in just a few short years had the team nationally ranked as high as sixth in the country in '84.
But, it was at San Jose State that Strahan confronted women's rights in her own career. Strahan said the athletic director was favoring the men's programs over the women's, in violation of Title IX. Some examples she gave were when the women had to ride in cars and vans to games, whereas the men could ride in buses because their legs are longer, said the school's athletic director. Also, the men received more meal money than the women because, he said, the men eat more. These inequities prompted a grievance that included Strahan, the women's basketball coach, the gymnastics coach, and the women's sports information director.
"It was not a fun thing to go through, but we felt so strongly about it," Strahan said. "After we filed a grievance against him, it was like the final straw for the state of California. I left seven seniors and two All-Americans at San Jose. I'm bound to get emotional about it."
The situation at the college made headline news on Thanksgiving morning in the San Jose-Mercury News newspaper. The attention did not go unnoticed, when shortly after, a program called Cal Now &- California National
Organization for Women, filed a lawsuit against the California State University system and won. This set equality standards that are in place today.
"That's now why we all have the gender equity check marks (universities) have to make on (women's) participation in sports," Strahan said. "We just wanted things to be fair."
Strahan removed herself from San Jose State and headed a little farther north to Sacramento and took the job as Sac State's head coach. Eighteen seasons later she has established a winning program here and has achieved a record of 97-59 in the Pacific Coast Softball Conference games over the years.
The girls both enjoy and respect her as a coach.
"Wow there is so much to say about her. She is an amazing person and honestly I think she strives to make us better people more than just better players," said senior Hornet pitcher, Megan Schaefer. "I will remember her forever. She has impacted my life hugely and she has been like a second mom to me."
Strahan said Sacramento is where she plans on staying and that retirement might be on the horizon.
When asked how she feels about this school and this area she said: "This is my home and these (women) are my kids."
You can reach Joe Fleming at jfleming@statehornet.com