?Rat Pack? commemorated for scoreless, undefeated season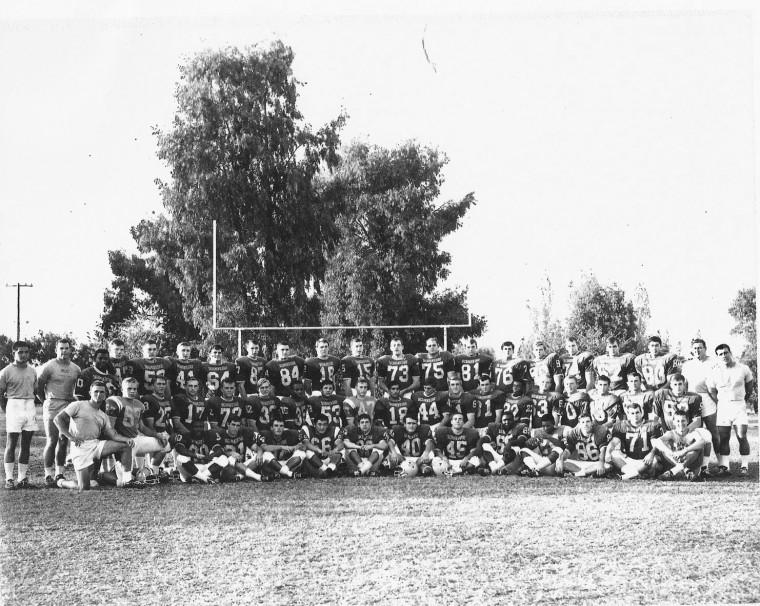 Things were a lot different back then. Every Friday before a home football game came around, a marching band would parade through campus. Football, back then, was a way of life at Sacramento State. The year was 1967, and the atmosphere was electric and buzzing as students packed the football stadium.
The freshman football team, better known as the "Rat Pack" of "67 was undefeated and recorded a shutout in every game that season. Now, in 2011, the team that was never scored upon will live forever in the Broad Athletic Fieldhouse. The team was commemorated in February with a plaque that is etched with the team's victories.
"As the season got close and we got down to Davis, which was the last game on our schedule, then the reality started to set in that, "Hey we really have a shot at this,'" said former freshman head coach Bill Kutzer. "So it was certainly very much on our minds as we hit that last game."
The "Rat Pack" of "67 consisted of 47 players, five coaches and a manager, who coined themselves as a "Band of Brothers."
"We had some great experiences playing ball at Sac State but the memories and friendships made from playing on that team still remain the best of all," said former Hornets linebacker Brian Watson. "I know that the phrase "Band of Brothers' has probably been overused, but I truly believe we were the originals."
The close-knit team rarely scored below 20 points in all that season's games. In fact, there was only one game that was less than a 20-point game, and it was against Humboldt's junior varsity team, where the Hornets won 13-0.
"We knew that we had a good group of athletes," Kutzer said. "You never really know how they are going to blend and how they are going to come together. One of the things that we discovered early is that on both sides of the ball, offensively and defensively, they were hard-hitters."
After just three weeks of practices together, the coach had to stop letting the team scrimmage.
"We hadn't even played our first game yet and we stopped scrimmaging against each other because we were beating each other up," Kutzer said. "That was a first time experience for me because in those days we did a lot of hitting. That was the nature of the way we were brought up as players, but we figured out early on that these guys were something. They could hit you. So after the third week we never scrimmaged them again."
The final game of the "67 season was against Causeway rival UC Davis, and it was set to be a big game because Davis was the only team to beat the freshman team the previous season. They ended the game 24-0.
"That (The UC Davis game) was a big deal, and we were so fired up," Kutzer said. "It was an incredible atmosphere in the locker room. One of our starting defensive backs got kicked out first play of the game because he was overexcited.They actually came the closest to scoring on us all season."
When the game ended, and the season was over the team could not believe the feat it had accomplished.
"It was chaos," said former Hornet fullback Mike DeAngelis. "We couldn't believe that we had the season that we had. We were so excited, and everyone was jumping around. We didn't want it to end. We wanted it to keep going on and on."
It was not just a big deal for the players, that moment when they finished a season. It was a big deal for the coaches as well.
"It was quite an experience when we closed that game out," Kutzer said. "I think I had to run after the head coach from Davis because he wouldn't come across and shake my hand. He wasn't happy about it. I chased him down outside the stadium."
The "Rat Pack" will never forget that season. They still brag to people about it today. Watson said that he and his teammates tell the story of that season to anyone and everyone who will give them the time of day.
"There is still one thing about that group that was very unique," Kutzer said. "They came together. There was a bond, kind of a brotherhood, almost from the beginning. And that still remains. We've had two reunions since then, and it's still a very close-knit group."
You can reach Cassie Kolias at [email protected]