Infielder, head coach share a similar history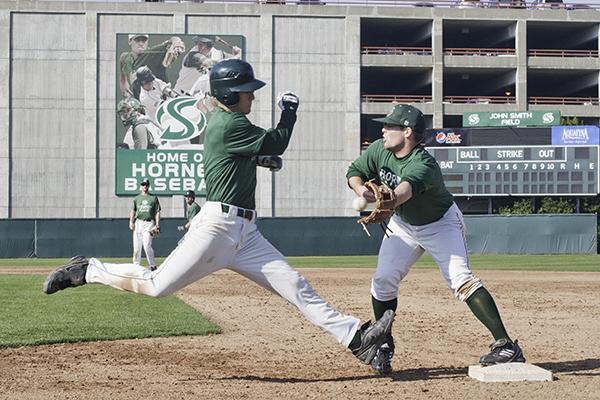 Sacramento State baseball's head coach Reggie Christiansen and second baseman David Del Grande have something in common. The two shared a coach, who happens to be Del Grande's father, Dale.
David Del Grande, a freshman double-major in history and anthropology, graduated from St. Bernard's High School in Eureka, Calif., as a valedictorian of his class, which he said consisted of just 22 students and only 100 in the entire school.
The transition from a small-town school to Sac State was a big change for him. He leaned on his friends to help with the adjustment.
Del Grande especially finds support in the form of his best friend and teammate Andrew Ayers, sophomore business management major. Ayers also graduated from St. Bernard's with Del Grande, where the two played on the same baseball team.
"We've been playing since we were 5 years old together and his dad's always been his coach." Ayers said. "He's never going to get down on himself. He believes in his abilities."
Del Grande and Ayers have lived together since they came to Sac State in 2009. Ayers said Del Grande is a different type of guy who has his own way of doing things.
"He likes stuff that normal people don't like," Ayers said. "He's got his own style, he'll wear a fedora around. It's some kind of top hat. He doesn't care what people think of him."
Del Grande said he enjoyed his time spent at the small private school and that it helped him prepare for the college experience. Achieving valedictorian was an accomplishment that he said was great, but overcoming the fear of public speaking was hard for him.
"It felt good (being valedictorian), but I'm not high on giving speeches," Del Grande said. "I hated (it)."
Along with being a standout student, David Del Grande excelled on the baseball team at St. Bernard's under the watch of his father and head coach Dale.
"He was pretty hard on me. Harder on me than the other kids. If I was having a bad day and I didn't want to be there, he'd get on me," David said. "It just seemed like he paid more attention to me. I remember him telling me to run a lot to the fence and back. I felt it was a little unfair."
Ayers said he remembers David getting "chewed out" by his dad, but that he took it in stride and used it to become a better player. Dale said his goal was to make David a better athlete and that he wanted to make sure that his son didn't have it easy on the team just because he was the coach.
"Just because I was his dad he didn't get any breaks from me. I'm honest with all my players, but I can be pretty demanding and I can get fired up," Dale said. "I think it's tough coaching your kid. It was a lot of fun and looking back on it now that it's over, those were great times."
The transition from St. Bernard's to Division I collegiate baseball wasn't easy for the younger Del Grande. He redshirted for the 2010 season. He said it was hard watching the team from a distance, but learned more about college and baseball in the process. Dale believes redshirting was great for David and that Sac State has the right coach in place for his son and the team.
"I think (redshirting) is the best thing that ever happened to him. I think he grew and physically got stronger," Dale said. "If there's anybody that I wanted to coach (David), it's the one who's coaching him right now."
Christiansen, who is in his first season as the Hornet's head coach, said the elder Del Grande was a "fiery" type of guy and coach. He said during his playing career he's played for many good coaches and Del Grande is certainly one of them.
"His dad is a really intense guy. It was a lot of fun and you always knew where you stood with him. If he told you something, you knew that he meant it," he said. "His dad is very passionate about the game of baseball. He's a very good high school baseball coach."
Christiansen was 18 when Dale coached him on a summer team called the Humboldt Eagles. The elder Del Grande knew then that Christiansen had baseball in his blood.
"He's a very baseball-oriented guy and out of all the guys I knew he was going to end up in baseball," Dale said. "He's going to be a coach because he has the mind for it. I always knew that."
Christiansen said the younger Del Grande is progressing nicely. He said David is now one of the team's best batters.
"He's done a really good job. He's matured, he's got a lot stronger, starting to swing the bat a lot better, and he's made progress defensively as well," Christiansen said. "The biggest thing I think is he really understands the game. He's one of our smartest (players) off the field in the classroom and smartest on the field."
David Del Grande hit his first home run as a Hornet against UC Riverside on Feb. 27. The ball sailed through the crisp winter air and bounced off the parking structure that looms over the left field wall, similar to the Green Monster at Fenway Park in Boston.
The thudding sound that rang through John Smith Field signaled the toll of the bell &- another soldier of the "green army" has arrived.
You can reach Joe Fleming at jfleming@statehornet.com