Nooner: The Zoo Human Project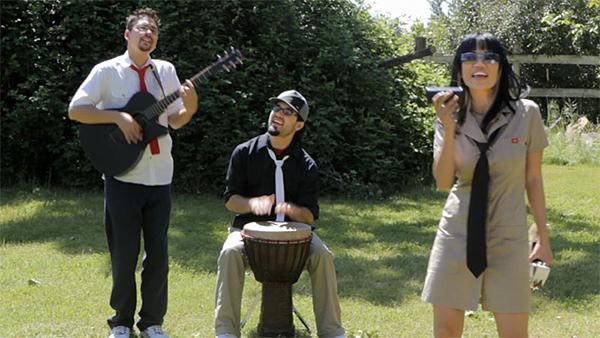 Though it may sound like a mad scientist's evil plot, The Zoo Human Project aims only to please all it encounters &- but taking over the world, musically speaking, would not be half bad, either.
The local acoustic rock and soul group will be making its second appearance at Sac State today. It played in last September's Phlagleblast, where it stood out amongst the other bands. This prompted UNIQUE director Zenia LaPorte to ask the group to play a Nooner, Sac State's weekly showcase event.
"Their enthusiasm for music really shines through their performance," LaPorte said. "People really enjoyed them, so we wanted to bring them back for a more formal show."
The music that will be on display outside the Union is the product of dedication, friendship and a mutual love for music among Derek Martinez, guitar and vocals; Jen Cordero, guitar and vocals; and Kevin Sakamoto, percussion and vocals.
Martinez and Cordero met while attending USC, with Sakamoto joining the band in 2006. After completing their first album "Naissance" in 2007, members of the Zoo Human Project made the bold decision to quit their jobs and tour the nation.
"What a huge leap of faith," Martinez said."In each state we wondered &- would complete strangers buy our music?"
The answer turned out to be yes. The first tour was so successful they were able to fund their second full-length album, "Innominata," released in 2009.
"We're relatively blessed to have any kind of response (from fans), especially for being a small-time band," Cordero said.
Since that first tour they have made the cross-country trek twice more, each time returning with fun stories and memories. The moment that most sticks out to Martinez highlights the band's ability to see the humor in the everything.
"Three dogs peed all over our merchandise during a gig at The Sweetwater Brewery in Atlanta," Martinez said.
Enduring the grueling schedule of a tour along with the perils of weak animal bladders is hard enough on its own. What makes the members of The Zoo Human Project stand out is that they were able to write, record and self-release all of their albums in between tours on their own dime.
Derek, who Kevin describes as an "audio wizard," acts as the band's audio engineer.
"We are certainly doing a lot, without having a lot," Martinez said. "Our recording process is often "self-MacGyver'd' in our own home studio."
The process seems to be netting results as their albums have sold very well for a local band.
"We've sold out of our first album three times," Cordero said. "And our holiday EP was sold out within two weeks!"
While songs like "NWT" and "Do You Hear What I Hear?" feature the vocal harmonies and layered guitar melodies present in many Zoo Human Project songs, the three members listen to and draw inspiration from many types of music.
Cordero listened to the original cast recordings of "Les Miserables" and "Miss Saigon," piquing her interest strong vocal performances. Martinez, on the other hand, fed off of the energy and emotion present in the album "Vs." by Pearl Jam. Dave Matthews Band "Under The Table and Dreaming" is one of Sakamoto's favorite albums, inspiring his unique yet focused drumming.
"When I play I try to keep a thoughtful groove, and always add a little flair," Sakamoto said.
These three independent styles and personalities have served the band well, a trend the members hope continues as they record their third album.
But for now, the focus is on performing to the best of their ability for the students at Sac State.
The band promises a funny, intimate and soulful show that will also make your booty shake.
"Geez, I think we may confuse people," Cordero said.
Perhaps the Zoo Human Project does confuse some, but at least the band has fun doing it.
Dante Frattini can be reached at [email protected]