Pianist finds personality for music in Germany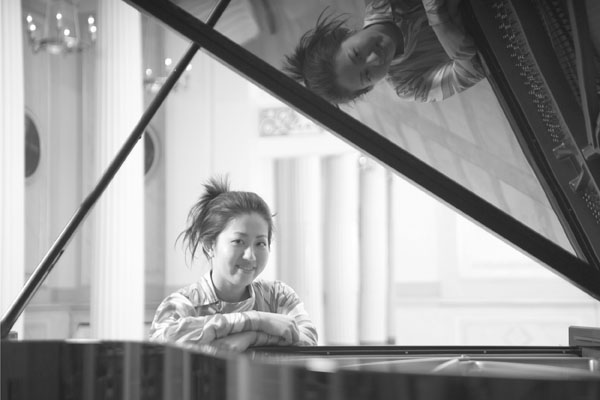 Musicians work their whole lives to master their art. For pianists, this means years of rehearsal before considering a career as a performer.
"Pianists must study and practice for 20 years before even thinking about a career," said piano professor Richard Cionco, director of the Sac State Piano Series and Piano Festival.
"The study must continue, as there is always more to do and more to know."
World class musician Yu Kosuge has an active career in Japan and now is beginning her exposure in the U.S., Cionco said. Kosuge is performing at 7:30 p.m. Saturday in Capistrano Hall.
"Ms. Kosuge is a huge success in Japan and other parts of the world," Cionco said. "She is breaking into the American circles now and I find it very exciting to have her here at Sac State.
"All of the pianists who perform in my series are world class. It is for the benefit of our students and our community to enjoy the highest caliber music."
Classical music is a difficult industry in the U.S., said Kosuge's manager, Diane Saldic.
She wants Kosuge to be exposed to the Sacramento Philharmonic in order to engage a concerto performance.
"There are many more qualified artists than performing arts series or orchestras can accommodate," Saldick said. "Yu's career in the U.S. is only just beginning to develop yet I have every confidence she will flourish here as she does in Europe and the Far East."
Kosuge began playing when she was 2 years old. Now, at 27, she realized that something that started out just for fun became a life pursuit.
"Since I found out how deep and profound music is, I had to do it professionally to spend as much time as I can to find out the truth behind the music," Kosuge said. "When I was little I also had dreams of becoming an astronaut or film director, I always loved adventures and stories, but I had to put these aside to concentrate on my passion, music, which can be also adventurous and story-telling in itself."
Kosuge feels that the story of her music involves telling about different cultures. Her music is rooted in two countries: Japan and Germany.
Born in Japan, she received her original music education there through lessons and instructors, not only in piano but also with composing, harmony and singing.
When she was 9, Kosuge moved to Germany where she said her music was given personality and creativity through exposing her to the German style of teaching music. Kosuge said she wants both cultures represented in her music, but that Japanese roots are the most important to her because of how she can use Japanese style of pausing in all music.
"In Japanese gardens, distance is very important. Not only architecturally, but from the moment when a drop of water falls from a bamboo into a stone vase, there is this intense pause between when the drop is still in the bamboo and when it's in the vase," Kosuge said.
"In music, the pause between two notes is very important. I play German music a lot but the Japanese sensitivity and aesthetics are a part of me and I want to treasure them."
One of Kosuge's favorite pieces she will be performing is a short Japanese piece from Takemitsu.
"It's called "Rain Tree Sketch,' and the image is from a Japanese literature. The Rain Tree is a big tree and its leaves have a lot of raindrops on them. I think it shows what those pauses in Japanese music," she said.
Kosuge said she did not always feel like an artist. As a child she just loved entertaining people on stage.
"As I grew, I felt pressure from myself and responsibility for the music pieces, which I wanted to understand. I wanted to study what the composers wanted to tell as much as I could, so I think I evolved to become an artist gradually and as a musician you never stop learning and growing," Kosuge said.
Kosuge is learning how to adapt to the musical culture of California.
"I have never been in California and am very excited to meet people and see this different environment," she said.
Kosuge picked pieces to perform at Sac State that she feels reflect her background, from Beethoven to Chopin to Japanese pieces.
While Kosuge hopes to be inspired by what she sees in California, she also hopes to inspire others with her performance.
"I hope to be able to inspire students to think about their own interpretations of music even if it differs very much from mine," she said. "Their reaction I can't control, but I'd be happy if my playing can give a lot of energy to everyone to enjoy their own profession."
Cionco said this performance should appeal to everyone in the community since Kosuge's music is exciting and fresh.
"Students will closely observe Ms. Kosuge as a creative, thoughtful, and polished professional artist at work," Cionco said.
"This modeling is crucial for the development of any musician. This is the goal of any live performance."
Leia Ostermann can be reached at [email protected]