Sacramento State loses offensive slugfest to Montana State 64-61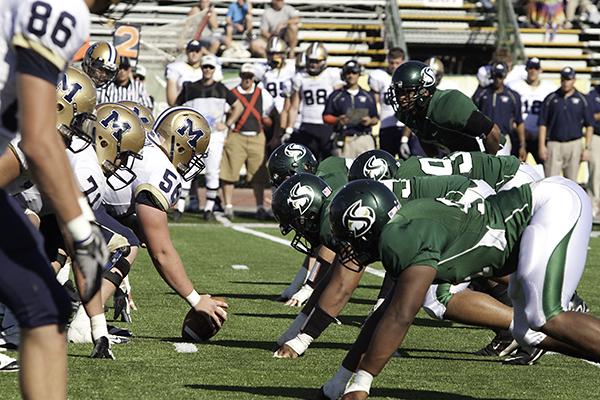 Sacramento State football suffered a heartbreaking 64-61 defeat in overtime to No. 10 Montana State University on today at Hornet Stadium after being down by 27 points at halftime.
Kicker Chris Diniz missed a 43-yard field goal wide left in overtime as the Hornets drop to a 2-3 overall record and 1-2 in conference.
"It was a battle. It came down to two teams just punching it out for 60 minutes. It's just the way the game ended," said Hornet head coach Marshall Sperbeck.
With both teams putting up a total 1,270 offensive yards, the lead changed multiple times in the second half. Quarterback Jeff Fleming was 20-36 passing for 348 yards, five touchdowns and two interceptions – both in the first half and both of which stalled Hornet scoring drives. Sac State scored 10 points in the first half and Sperbeck was not content with that performance.
"I told them to go play the game that they are capable of," Sperbeck said. "I don't think we played the way we we're capable of in the first half. I think we came out and played with some emotion and played much better."
The Hornets came out of the second half down 37-10. But the 27-point deficit did not stop Sac State from making it a close game, as the team scored 35 points in the third quarter to take a 45-44 lead.
"I know our team has fight and our team has good character. We just hit a speed bump there for a little bit and we got back on track," Sperbeck said.
Fleming threw three touchdown passes and ran for one in the third quarter alone. Wide receiver Morris Norrise caught all three touchdown passes from Fleming.
Fleming said the offense played well during the quarter.
"The line was doing an awesome job and the wide receivers we're doing an awesome job of getting open. It made it really easy," Fleming said.
The Bobcats kept responding with points after every drive the Hornets scored. Quarterback Denarius McGhee threw for 382 yards, four touchdowns and zero interceptions. But Fleming took the offense right back out on the field and made the game a shootout.
"Our team is a fighting team and every kid on this team cares so much and sells out no matter what," Fleming said. "This team really, really fought and we got back in the game. It just didn't go our way."
Another star for the Hornets was running back Bryan Hilliard. After scoring on a 70-yard run, Hilliard put the Hornets up by six, late in the fourth quarter. Hilliard ended the day with 194 yards rushing and two touchdowns. Hilliard said the key to winning was playing a complete game.
"We always play hard and physical and that wasn't hard and physical," Hilliard said. "We have to play four full quarters.
Sperbeck said the team learned a lot from playing such a intense football game.
"There's a lot of guys in there right now that are very upset and that's a good thing," Sperbeck said. "It needs to mean something to you. You need to feel like you've put everything into it and I think they did."
The Hornets host the University of Northern Colorado on Saturday for Sac State's homecoming game at 2:05 p.m.
Marshall Hampson can be reached at [email protected]