Local bar and grill hosts Mountain Lions fans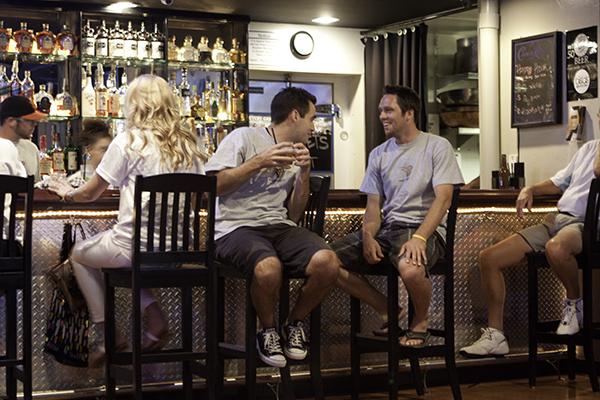 Having Sacramento Mountain Lions' cheerleaders and mascot greet cars as they pulled into the parking lot of Bisla's Bar and Grill off Folsom Boulevard was anything but ordinary on a Saturday night.
The weekend after Hornet Stadium packed 20,000-plus fans for the Mountain Lions' debut, hundreds of Mountain Lions fans gathered at Bisla's for the Mountain Lions' viewing party during the away game.
The Sacramento Mountain Lions and Bisla's have been working together since the team first came to Sacramento State. Director of Business Management Joe Wagoner said he believes that choosing Bisla's for hosting the events seemed natural.
"It is a 9-iron from here to the football field. It makes a lot of sense," Wagoner said. "We're trying to create rabid fans here and a lot of it happens on game days. A lot of it is on away games. To have people drive all around town, makes no sense. It's very convenient for the fan and at the end of the day, that's what it's all about."
Wagoner and the rest of the Sacramento Mountain Lions' front office worked together with Bisla's owner Jacob Carriker to provide a successful business collaboration.
"It's awesome. Everything has gone off without a hitch," Carriker said. "The school is right there, so it's a good place for us to hook up with. I think anytime a business gets a chance to support a local team, it's a good place to go with it."
With raffle prizes during halftime, dozens of HD televisions, two separate seating areas and excited fans, the UFL team and Bisla's are both making the most of the opportunity.
"You see the mascot running around, the good-looking cheerleaders, their staff is awesome, the football players will come in here for UFC and we treat their staff well," Carriker said. "We look forward to doing it over and over again."
Fans mingled with fans at other tables while watching the game as the waiters and waitresses brought out burgers, pastas, chicken wings and drinks to the fans supporting the new local team.
Wagoner said the fan-friendly environment created at Bisla's was just as he hoped.
"It's kind of what we expected with this whole thing because football fans are football fans," Wagoner said. "They are all races, shapes, sizes, ages – the whole nine yards and if people feel passionate about something, people will be passionate about it. When you get them in one place and they start talking about their love for football and the Mountain Lions, it doesn't surprise me that new bonds are being created here."
Sacramento Mountain Lions season-ticket holder John Pattie was found throughout the restaurant during the game and said he had a great time meeting new people while watching the game.
"This is the first time I've ever been here, but it's good," Pattie said. "If you're a Mountain Lions fan and you support the team, it's a great place to come and watch the game. I'm going to drag my friends here next time too."
At halftime, the cheerleaders raffled off Mountain Lions' merchandise and autographed footballs to customers who attended the party. Mountain Lions cheerleader Malia H. said she felt honored to be a part of the program and the ability to represent events like these.
"I love being a Mountain Lions cheerleader because I love how it's so professional," Malia said. "Dance has been such a big part of my life, so it's a good way for me to express it on the field."
Malia and the rest of the cheerleaders were seen at every table in Bisla's talking to the fans and getting to know a little about them. Fans also had the opportunity to get pictures of the cheerleaders and the mascot during the game.
Bisla's is no stranger for hosting parties. As the Mountain Lions' season continues, the two businesses will be throwing pre-game, post-game and away game parties for any Mountain Lions fan to attend.
"It's a way to get a little bit up on our competition," Carriker said. "Getting these people in here when they bring their families, have their parties and anniversaries in here – it's just a really good way to get a strong customer base."
Even though the collaboration with Bisla's is just one aspect of integrating a professional team into the city, Wagoner said the partnership is helping the Sacramento Mountain Lions to be embraced by the community.
"Being year one, we want people to be excited about it," Wagoner said. "We want the team to be good, we want the entertainment to be good, we want it to be easy to get in and out and most importantly, it's affordable. I think we've accomplished it to date, we just have to keep it going."
Marshall Hampson can be reached at sports@statehornet.com