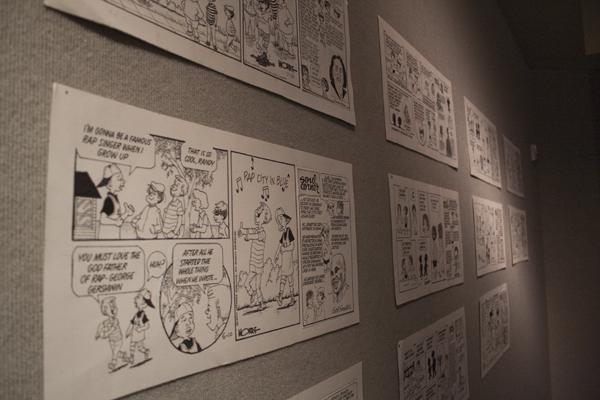 Morrie Turner was the first published African-American cartoonist and the first ever to integrate non-white characters into a comic strip.
Turner will be displaying his nationally syndicated "Wee Pals" comic series in the University Union 2nd floor Gallery through Sept. 30.
He is also lecturing at noon Thursday in the Union's Hinde Auditorium. Turner will share what led him to create a culturally diverse comic strip that broke down racial barriers during the civil rights era of the 1960s.
Turner used the phrase "rainbow power" to express cultures working together in his racially inclusive comic strip. The 87-year-old illustrator has worked for 45 years on his "Wee Pals" series. Turner is a self-taught artist, creating comic strips for fun until he was first published in 1965, yet his decision to create a multicultural comic strip was still met with resistance and fear, Turner said.
"The big newspapers didn't want to rock the boat and they were afraid of the white society protesting. They didn't want to take that chance," Turner said. "Suddenly, after the assassination of Martin Luther King Jr., they got interested. The whole nation was rocked by guilt and decided that they better show their intelligence and their tolerance."
Turner began drawing comic strips for the Army newspapers while serving in the all-black 447th Bomber Group in World War II. His satirical strips were first published in 1965 by Negro Digest and Black World. The publishers asked to sell his series to multiple publishers; Turner was excited yet shocked, he said. He had little faith in his comic strip becoming nationally recognized, Turner said.
Turner's strip began with black characters but the gang soon expanded to include kids from Caucasian, Asian, American Indian, Latino and Jewish ancestry, Turner said. Turner's fellow comic strip artist, Charles Shultz of "Peanuts," was an inspiration to Turner when he first noticed the only-white trend in comic strips.
"Wee Pals" showcases a world that lives without stereotypes or prejudice, a place where people's differences are cherished, Turner said. The comics themselves include witticisms about black history, politics and current events.
Turner said he does not remember thinking what he was doing was radical. He saw there needed to be other races represented in comic strips, so he created them, only realizing the massive step he made after his strip was syndicated, he said.
This series continues to be featured nationwide in newspapers including The Sacramento Bee, said Rick Newcombe, president of Creators Syndicate.
"It's a historical comic strip. So we thought it would be cool to see why Turner created it and how it affects us," said Zenia Laports, UNIQUE programs adviser.
Turner faced a lot of discrimination for the big cultural step he made, but one could never tell, Newcombe said.
Turner is happy how far racism in America has come, he said. Turner grew up in Oakland, a racially diverse city in which every race and religion was represented and accepted, Turner said. However, after joining the military, Turner got his first taste a separation and racism, so he drew cartoons.
"There were tons of complaints about having black characters in my comics. Life was different back then," Turner said. "Take the generation I was in and think about the different areas of the country where people acted much differently than they do now."
Newcombe said Turner's ideas and motives were way ahead of his time.
Turner's comics, although witty and humorous, are also relevant to our culture and the combination of different races in one place, Turner said.
Turner was given the National Cartoonist Society's Lifetime Achievement award.
Newcombe said Turner's tremendous talent and personality make a priceless combination of art.
"He is a trailblazer for comics after him."
Leia Ostermann can be reached at [email protected]