Causeway Classic QB returns as a starter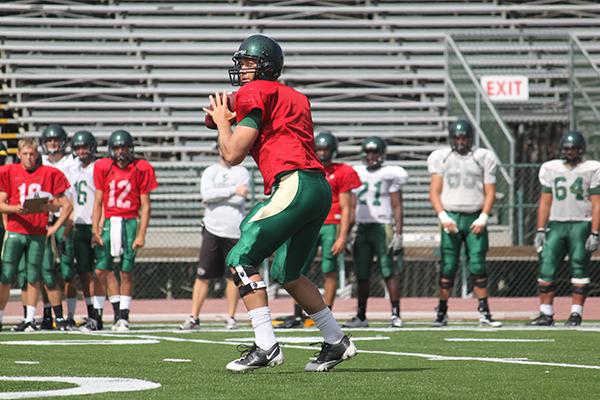 Senior quarterback McLeod Bethel-Thompson is still carrying momentum from last season despite an array of changes throughout his college career.
Bethel-Thompson, who attended UCLA his freshman year, will begin the season as the starting quarterback for the Hornets on the road at Stanford University on Saturday.
Thanks to an excellent finish to his junior year, Bethel-Thompson earned the job as he threw for 635 yards and four touchdowns in his final three starts.
In arguably one of the most exciting games in Sac State football history, Bethel-Thompson threw the game-winning touchdown pass to wide receiver Brandyn Reed with 20 seconds remaining in last year's Causeway Classic against UC Davis.
"It was a great game; pretty much a tale of two halves," Bethel-Thompson. "We all just came out and played well. Everything just kind of fell together. It was a little bit of magic and a fun night."
He went 19-29 passing for 223 yards and two touchdowns against the Aggies in the Causeway Classic.
Bethel-Thompson attended Balboa High School in San Francisco, a school at which the football team had little funding.
In his senior year, he finished the season with 22 touchdowns and threw for 2,100 yards. Bethel-Thompson attended UCLA in 2007 to play football for the Bruins, which had a lot more funding for the football program.
"It was absolutely amazing," Bethel-Thompson said. "Coming from that and then going to UCLA was an absolute shock. I was loving the whole experience and kind of amazed at it all the same time."
In his first year after being redshirted as a freshman, he played five games as quarterback and got the start in the Las Vegas Bowl against Brigham Young University. Bethel-Thompson threw for 154 yards and a touchdown, but the Cougars edged out UCLA 17-16.
The Bruins dealt with a head coaching change at the end of the 2007 season and UCLA made changes. Rick Neuheisel became the new head coach and things ended up not working out for Bethel-Thompson.
"He was re-evaluating everybody in the program and unfortunately there wasn't a place for me," Bethel-Thompson said. "I played in the bowl game and I did well in the bowl game. I earned so much and worked so hard for two years to get myself established in the program that I didn't feel comfortable restarting at the same place."
After the season ended and Neuheisel did not keep Bethel-Thompson's scholarship at UCLA, head coach Marshall Sperbeck went after Bethel-Thompson and he was given a scholarship.
His sophomore year was a year that no athlete wants to deal with. After playing four games, he injured his knee and added on to his already crazy college experience.
"My whole career has been a huge roller coaster," Bethel-Thompson said. "Going from an inner-city school to UCLA was a spike up and then not playing so well was a downfall. Then getting back to playing well was another spike up and then having to transfer was another downfall. Then I got hurt again, lost my starting job and then last year ended the season well."
However, Bethel-Thompson's life is steady in the classroom. He took advantage of an opportunity to become a legislative assistant and a member of the state Assembly.
"I want to do everything after Sac State," Bethel-Thompson said. "I started out as a math major at UCLA and then moved to a history major when I came here. I actually had an internship at the state Capitol this last semester and it inspired me to do law school. It all depends on how the season goes, of course. I'd love to keep playing football if I can."
Athletic Director Terry Wanless said Bethel-Thompson is a role model for the other athletes to follow.
"He represents what we really feel a student-athlete should look like," Wanless said. "If you combine the energy he brings into the classroom and the energy he gets from the field, it's exactly what you want to see happen."
Being a senior quarterback, Bethel-Thompson also is a leader on the field. His teammates have somebody to rely on to command the offense.
Junior running back Curtis Shaw said he appreciates how his experience coming from a bigger conference is helping the team.
"He's a leader," Shaw said. "He takes pride in leading the team in the right direction. He steps up and takes control like a quarterback should."
Bethel-Thompson said he has grown throughout his experiences and is looking forward to a great senior year.
"I'm ready for this season to play 11 games and keep enjoying it," Bethel-Thompson said. "It's been a long road and I'm ready for it to pay off this season."
Contact Marshall Hampson at [email protected]