Track star Robinson thrives after redshirting last season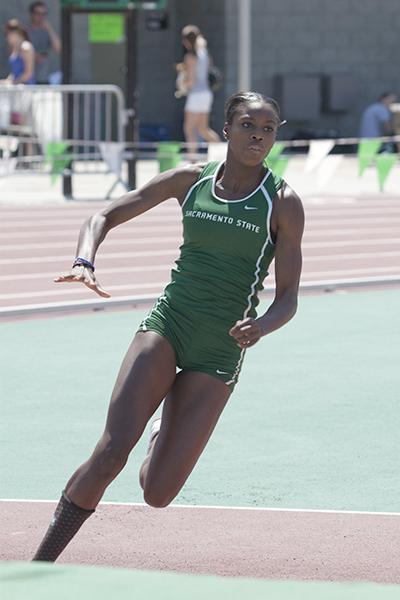 For sophomore Moira Robinson, boredom in her childhood led to being involved with track and field at Sacramento State.
The kinesiology major started running track when she was in middle school. Robinson said her hometown was not active city.
"I started running track at my middle school in Visalia because there was nothing to do in the city," Robinson said. "I was bored and I decided to run track."
Robinson played basketball and ran track during her four years at Mt. Whitney High School. But she said she never took track seriously until the end of her sophomore year.
At Mt. Whitney, Robinson competed in the triple jump, high jump and pole vault.
In her senior year, she earned All-American honors because she finished third in the state in the high jump and finished fifth in the triple jump at the 2007 California Interscholastic Federation Track and Field Championship.
Robinson said after her senior year, she chose to go to Sac State because of the team unity and the other athletes.
After making the decision, Robinson said transitioning to college track was more difficult than she expected.
"It was different because I just did jumps and pole vault in high school," Robinson said. "I remember it was really hard. We had to do eight 50-meter sprints in practice and I wanted to stop after No. 3."
The coaching staff made her try new events like the 100-meter hurdles and the 800-meter run so she could compete in the pentathlon. During her freshman year, Robinson set the school record for pentathlon with a score of 3,603.
"I love my coaches," Robinson said. "They know how to push you just right in everything. They are big on making athletes compete in multiple events without pushing you harder than you need to be pushed."
Junior Lea Wallace said having Robinson on the team is allowing the Hornets to perform better at meets.
"She definitely has added a lot to the team dynamics," she said. "She has a lot of spunk, a lot of personality and keeps everybody excited about what they're doing and about the sport."
After her successful freshman year, Robinson redshirted the 2009 season due to personal reasons. In that year off, she knew she had to come back a stronger, faster athlete.
"I knew I had to work harder," Robinson said. "I spent the whole season not participating but I knew I had to come back next year and do better than what I did my first year."
As she entered the outdoor track and field season, Robinson came ready to compete. Head coach Kathleen Raske said she was happy about Robinson's return.
"It's great because she's physically much more mature," Raske said. "She's also growing as an individual and maturing as an individual, which is so very important in handling herself better, handling competition better, handling her training better and becoming more coachable."
In the 2008 Big Sky Indoor Track and Field Championship, she earned All-Big Sky Conference honors for her top-five marks in the 60-meter hurdles, high jump, triple jump and long jump. She said her success in jumping comes from having fun with the events.
"My favorite event is the triple jump," Robinson said. "Well, it was almost a tie between triple and high jump. But when you do (the triple jump) right, it feels amazing."
Even in other events, Robinson is climbing up the school record books. With her time of 8.64 seconds in the 60-meter hurdles, she ran the third best time in school history. On May 5 during this outdoor season, she set the fourth-best long jump in school history with 19-10 3/4 feet.
"We're hoping that she'll continue to improve as we begin the tapering process for her to run faster in hurdles; break 14 seconds in the hurdles; jump over 43 feet in the triple jump; jump over 5 feet 9 (inches) in the high jump and jump 20-plus feet in the long jump. She's certainly capable of doing all those, even today," Raske said.
Marshall Hampson can be reached at mhampson@statehornet.com