Wii Play your favorite games without leaving the house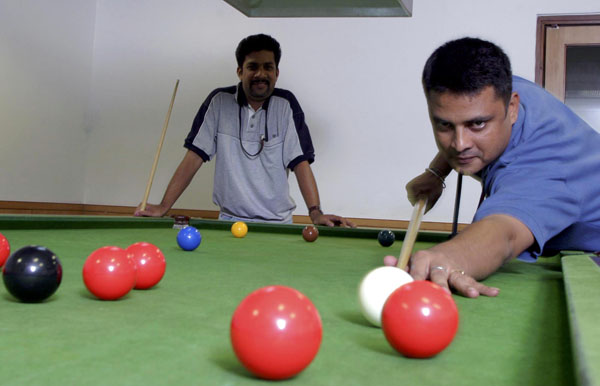 There are plenty of people who wish they could play billiards without having to pay. The same goes for air hockey in an arcade. Oh yeah, and who wants to go chasing after the ping pong ball every time it bounces off the table?
In Wii Play, one of the newest games for Nintendo's Wii console, all of these games and more can be played from the comfort of home.
According to Nintendo's website, Wii Play has "a little something for everyone who enjoyed the pick-up-and-play gaming of Wii Sports."
The game rolls nine smaller games into one, allowing the player to choose which game he or she wants to play. However, each game must be played once in order to open up all of the games for random selection.
The first game is the shooting range. Using the Wii's unique remote, players pop balloons, blow away targets and keep UFOs from abducting their Mii, a custom character that is made on another of the Wii's channels.
The next game is called "Find Mii." If anyone remembers the old "Where's Waldo?" books, then this game is probably for you. Here, players try to spot pairs of Miis, which Mii is out of place or even the Mii that they are using to play.
Next up is table tennis, also known as ping pong. No more having to duck when your opponent smashes the ball at you.
Oh, and don't forget billiards. While most people are used to playing pool, where you sink either the striped or solid balls and try not to sink the eight-ball until the very end, Wii Play only offers nine-ball. Here, the object is to sink the balls in order, from one through nine. If a different numbered ball happens to go in as a result of your shot at the correct numbered ball, all the better. Even though nine ball is fun, it would have been nice to have the usual pool in there, too.However, perhaps the best part of Wii Play is the fact that it comes with a bonus Wii Remote.
"The extra controllers sell on eBay for almost $40," Keith Nelson, a junior Asian studies major, said. "So I was able to get a cheap game for the Wii."
Wii Play is a good collection of smaller games overall, with only the lack of regular pool marring the fun.
"(Wii Play) is easy to learn and just about anyone of any age could have a blast with it," senior Asian studies major Ray Arcega said.
Wii Play can be found at most game stores as well as Target for $49.99.
Jenna Hughes can be reached at [email protected]