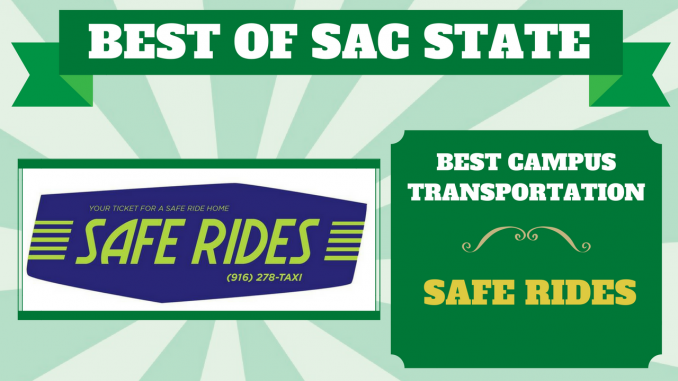 Click here for full results.
Safe Rides, a service provided by Associated Students, Inc., was recently voted best mode of transportation by The State Hornet's readers.
Students, staff and faculty in need of a ride from Wednesday through Sunday between 10 p.m. and 2 a.m. can call to request a ride home — if that is within 10 miles of Sacramento State. The drivers are all student volunteers, often from different campus clubs and organizations.
Albert Delgado, the coordinator of Safe Rides, said the service is important to students who may not have the means to get home. He said that sometimes students get stuck in adverse situations and may not have the ability to drive, so this service offers a way for students to make it home safely.
"The funniest experience (I had as a driver) would have to be when a small pillow was taken from my car," Delgado said. "The passenger was holding the pillow for the whole ride and forgot that the pillow was not hers. I was able to retrieve the pillow in the same night, but it was funny to think that this pillow was important for her to take with her."
Junior child development major Alexis Marchman said she has used the service multiple times since she started attending Sac State.
"I like how convenient it is and that all you have to do to get home is show your OneCard," Marchman said.  "The drivers are always really nice and make me feel comfortable. The wait time is just like a Lyft or an Uber, it only takes about 10 minutes for them to come which is really great."

The following two tabs change content below.

Claire Morgan
Claire Morgan is a junior government journalism major. She joined The State Hornet as a staff writer during the fall 2016 semester, and has been interviewing away ever since. She enjoys writing about music, food and events happening on campus. In her free time, Claire can be found either at the midtown farmer's market or enjoying a soy latte at one of Sacramento's many coffee shops. Claire can be reached at claire.michelle.morgan@gmail.com.

Latest posts by Claire Morgan (see all)