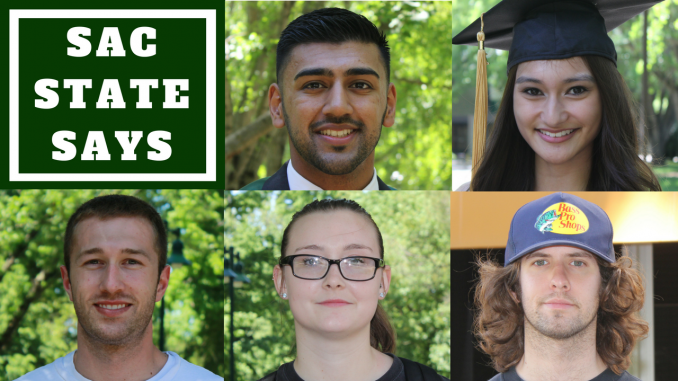 The semester is coming to an end, with finals starting next week and the spring 2017 commencement ceremonies set for May 19 and 20 at Golden 1 Center. We asked senior to grade their overall experience at Sac State – taking into account things such as their social life, classes and debt. Weigh in on your favorite social media platforms by using the hashtag #SacStateSay.
Click through the slideshow below.
Photos by Cassie Dickman

The following two tabs change content below.

Cassie Dickman
Cassie Dickman is studying journalism at Sacramento State with a minor in environmental studies and currently a staff writer for The State Hornet. This is her first semester at Sac State, transferring in from Los Medanos College in Pittsburg, Calif. At LMC, Cassie worked for three years on the college's student-run newspaper the Experience, where she served as a staff writer, photographer, campus editor, copy chief, editor-in-chief and managing editor. Eventually, she hopes to get her master's degree in investigative journalism and move to the UK to cover international issues, both political and environmental. Cassie can be reached at
[email protected]

Latest posts by Cassie Dickman (see all)