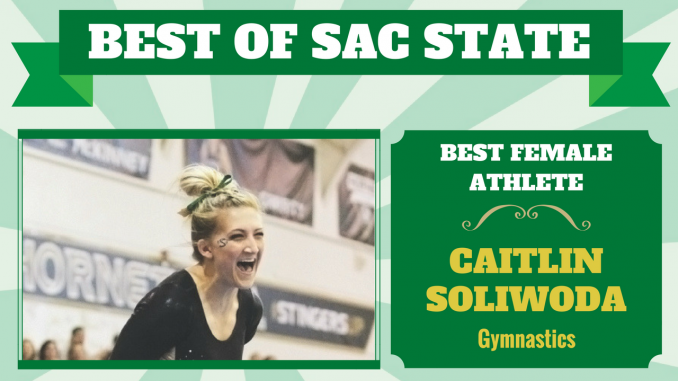 After placing 10th all-around at the NCAA Seattle Regional in April, junior gymnast Caitlin Soliwoda was voted this year's best female athlete at Sacramento State in The State Hornet's readers' poll.
Soliwoda, who was among four Hornets competing individually at the regional, was walking with a boot and crutches one week before the competition after rolling her ankle during practice.
After a week of physical therapy exercises with her trainer and only practicing on bars, Soliwoda finished her season with averages of 9.759 on vault, 9.748 on beam, 9.738 on floor and an all-around score of 38.965.
"I was like, 'I'm not about to miss regionals,' " Soliwoda said. "I knew in my heart that I had done this so many times already and was like, 'I don't need to be nervous about it at all, I have the skills.' The only thing I was nervous about was the pain — (but I) wouldn't let it take me out."
The Hornets ranked 24th in the nation early in the season, but injuries kept them from entering the NCAA Regional as a team, a goal set by coach Randy Solorio and the gymnasts in January.
Still, Soliwoda cheered on her teammates all season and said she hopes to become even more of a team leader during her senior year in 2018.
"We were constantly thinking of ways that we could motivate the younger gymnasts," Soliwoda said. "We even had a junior-class meeting at my house and were just like, 'All right, what can we do? We tried this and it didn't work so we're going to try this.' "
After training in gymnastics since she was 3 years old, next season will mark Soliwoda's final year competing in the sport. As the team will look to collectively compete at regionals for the first time since 2008, Soliwoda said she will emphasize the importance of staying positive at meets.
"If something doesn't work out, that's OK, just try it again," she said. "Don't give up, don't get mad — people are going to have bad days but you have to keep going."

The following two tabs change content below.

Will Moon
Will Moon is a junior at Sacramento State, where he is majoring in journalism and minoring in sociology. He enjoys writing about sports, music, politics and anything else he finds interesting. Though 10 years feel like a lifetime away, Will hopes one day he'll be writing for a major publication and chatting with fascinating people. One of Will's favorite hobbies is playing drums and he wishes he could play more often these days. He can be reached at williamtmoon18@gmail.com.

Latest posts by Will Moon (see all)