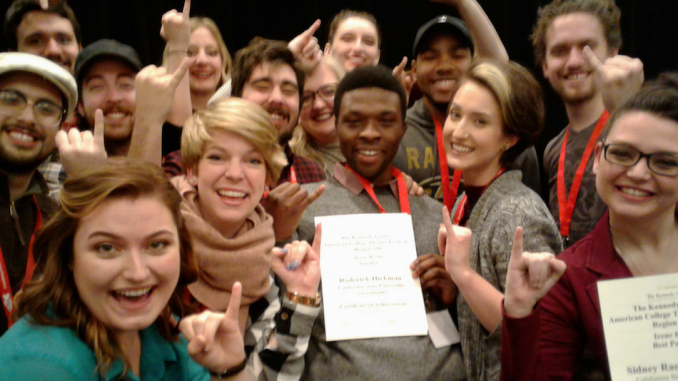 Sacramento State theater student Roderick Hickman is one of eight students in the nation competing in the 2017 Kennedy Center American College Theater Festival in Washington D.C.
Hickman, a junior transfer student at Sac State, is competing against seven fellow regional qualifiers for a $5,000 scholarship. The festival runs from April 16-22, and features workshops for performers along with scholarship opportunities for winners.
"It's crazy," Hickman said. "I started at Sac State last semester, and everything has unfolded so fast."
Hickman was cast in the lead role of C.C. Showers in the 2016 production of "The Diviners" at Sac State, his first semester on campus following his transfer from Sacramento City College.
Following his performance, he was nominated to perform at the regional competition for the Kennedy Center American College Theater Festival in Denver.
The winner at each of the eight regions across the United States automatically qualifies for the national festival in Washington D.C. along with a $500 scholarship.
Hickman, who had never competed in a theater competition prior to the regional competition in Denver, took first place and secured his spot at the Kennedy Center.
"When they called my name, I thought, 'Holy crap, I can't believe I just won,' " Hickman said. "I was in awe. I took a long time to walk up to the stage because I was soaking it all in. It was crazy."
In the festival, Hickman is performing scenes from both "Frankie and Johnny in the Clair De Lune" and "The Heiress," which he is performing with his partner, Sac State graduate Elizabeth Ferreira.
Ferreira, who previously worked with Hickman when she was the assistant director for "The Diviners," said that his growth as an actor is noteworthy despite the short period of time he has been in Sac State's program.
"I see more of a fearless actor who is honing his technique and learning the skill," Ferreira said about Hickman's development. "I see honesty and vulnerability. As actors we must sacrifice our heart, so that from the stage we have something to say against this hurting. I think he's finally gotten that — acting is about giving."
In addition to the scenes he is performing with Ferreira, Hickman will also perform a monologue that he wrote himself.
Michelle Felten, a professor at Sac State and director of Sac State's production of "The Diviners," said that a self-written monologue at the festival is an uncommon choice, but the best choice for Hickman. Felten said he encouraged Hickman to perform the monologue.
"Most performers do not write their own material," Felten said. "But [Hickman] had a 10 -minute final project in his voice and movement class last semester. He had written the beginning of that project. The way it was pieced together it had a real flow to it, it was right for him."
While the opportunity for distraction is present for a nearly week-long trip across the country, Hickman said he hasn't lost any focus on preparation and his performance and knows that each moment spent is essential to executing on the national stage.
"I don't think anyone could lose sight of what we are there for," Hickman said. "I will have fun throughout the preparation process, but it is important to stay focused."
Even with $5,000 at stake, Hickman said that he is more focused on executing his best performance on the national stage, and that too much emphasis on the judges and elements of the competition can be a distraction.
"The judges are the last thing I want to think about," Hickman said. "To me, the judges are no more than another audience member. I have to focus on my own performance up on stage."
Hickman is the first competitor from Sac State in the national final of the festival since the field of performers was reduced from 16 finalists to eight.
"I'm ready for this — I wish it were tomorrow." Hickman said.

The following two tabs change content below.


Latest posts by Max Jacobs (see all)