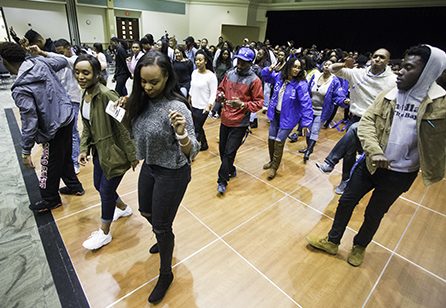 The fourth annual Capitol City Stroll-Off competition brought together some of Sacramento State's most historic fraternities for an evening of competitive dance in support of a cause.
As a part of The Divine 9, Alpha Phi Alpha, Alpha Kappa Psi, Phi Beta Sigma and Lota Phi Theta fraternities went head-to-head in three categories including up-tempo, slow-tempo, and freestyle.
Ultimately, Phi Beta Sigma took the top spot. Alpha Phi Alpha, last year's champions, took second place while the Lotas came in third place and the Kappas placed fourth.
Judging was based on synchronization, originality, and style of apparel throughout the three rounds.
Dating back as far as 1920, strolling is the traditional and celebratory dance rooted deep within the African-American culture.
Alpha Kappa Alpha Sorority Inc. has been credited and respected through the years  for starting the tradition which has been practiced in many Greek organizations.

Partial proceeds from the event will benefit the March of Dimes, an organization dedicated to reducing premature births, birth defects, and improve the health of mothers.

The following two tabs change content below.
Latest posts by Nicole Fowler (see all)