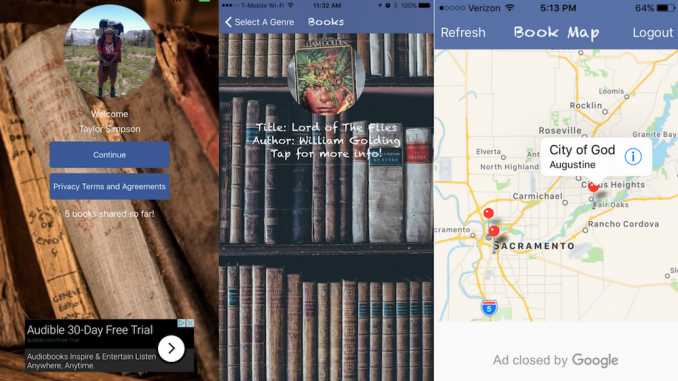 Taylor Simpson, a 25-year-old Sacramento State graduate, has launched a new book trading app called BiblosBooks, which allows its users to trade textbooks and novels for free.
BiblosBooks provides a platform and community for users to trade, borrow and share books with others, according to Simpson.
"Students at the beginning and end of each semester are always seeking to sell, trade or exchange textbooks for the one they need," Simpson said. "We wanted to make it convenient and easy for book enthusiasts and students to find the books they need and want."
It took Simpson six months to create the app once he decided on Firebase as the backend to support the app.
According to Simpson, this app is the only one of its kind. It features a chat function that allows users to communicate with each other so that they can decide what they want to do with their books. Users can see books near them using the map feature.
"While there are apps that are digital readers or that keep track of one's own personal library, no other app does what our app does," Simpson said.
Simpson worked alongside Christopher Vaeches and Christopher Keys to develop the app.
Vaeches, who is double majoring in business entrepreneurship and marketing at Sac State, is in charge of developing and implementing all of the business marketing strategies for BiblosBooks.
"I love that this app acts as a social platform to form communities around the books we love," Vaeches said.
According to Vaeches, BiblosBooks is a great way to meet people in your area who are interested in the same genres of books as you.
"Don't waste your time buying textbooks or novels when you can get them for free," Vaeches said. "Now, students can spend their money on basic living necessities such as rent and buying more Top Ramen, rather than hundreds of dollars on books."
Keys, who is a 33-year-old physics student attending Sac State for a master's in mechanical engineering, said that he is the originator of the idea and worked on the early conceptual development of the project.
"To me, this application is an opportunity to help the physical book transition into the digital age," Keys said.

The following two tabs change content below.


Latest posts by Rebecca Armbruster (see all)