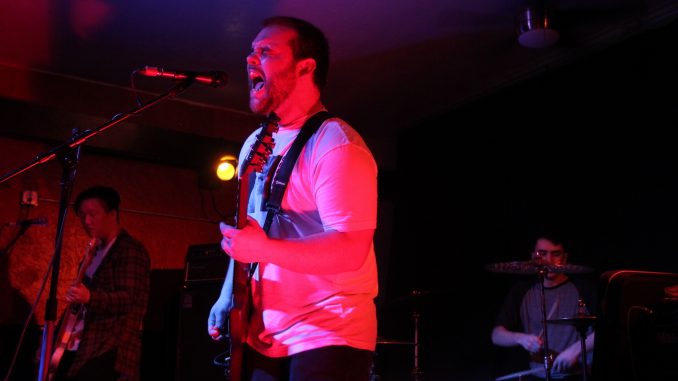 Thanks to Craigslist and a few months of work, Anxious Arms has found its sound through a collaborative process and released its first demo, "A Walk in the Dark."
The band, comprised of Sacramento State student Kyle Bolla, UC Davis student Trent Tanzi and Nolan Kawanami, came together through a Craigslist ad that sought punk-rock musicians.
Bolla said that he posted the ad in October, noting his influences and style, which consists of modern bands such as Basement and Seahaven as well as bands from the '90s such as Knapsack and Mineral, and short time later got a response on the ad.
"The post was answered by this guy from Davis who was a singer and had already found a drummer (Tanzi) and bass player (Kawanami) through Craigslist also," Bolla said. "The original singer did not end up working out, but the other three of us got along pretty well right away."
The group went through many changes early on, including the lineup and the name, which ultimately came from the name of a song the bandmates enjoy by Los Angeles-based rock band The Jealous Sound. The band managed to hit its stride after playing its first show in November.
"From the first time we jammed it seemed very natural," Bolla said. "We wrote our first song in our second or third practice, which I think is pretty fast."
While often writing independently, the bandmates came together and presented riffs and lyrics. They have even been known to write parts for each instrument and then teach them to one another.
"This is honestly the fastest writing process that I've ever been a part of," Kawanami said. "The thing about our normal writing process though is that it's never normal."
Each member also draws inspiration from different genres, which allows them to come together to develop their own unique sound.
"I'm a big fan of '90s emo and hardcore, and I draw a lot of my style from that," Bolla said. "But personally, I try to mix it up and listen to mostly older music."
While Bolla prefers his '90s, Kawanami said he leans toward artists from the '80s, including the Dead Kennedys and White Flag.
"That's really where I learned to write music," Kawanami said. "Hardcore punk had something to say. They had reason behind their songs and that's what motivates me to make music. I want to have a purpose to my songs."
Tanzi, however, is drawn to more modern artists, including local post-hardcore band Dance Gavin Dance.
"I didn't actually listen to the kind of music we play until I joined this band," Tanzi said. "I'd been playing drums for a while, but I didn't know much about pop-punk or hardcore. Nolan and Kyle were really motivated though, so I wanted to give it a shot."
The band is currently planning its first tour and hopes to travel to San Luis Obispo and Fresno. The bandmates chose to self-represent instead of hiring a manager in order to keep the feel of their band as authentic as possible.
Their individual tastes have blended into a style that's all their own, and their do-it-yourself approach to music is evident in everything from their performances to the packaging of their demo. They even go so far as to record tracks in one take so that fans know exactly what to expect at live shows.
"We want to be transparent with who we are," Bolla said. "We just want to be honest."
(Listen to the band's album "A Walk In The Dark" below)

The following two tabs change content below.


Latest posts by Khanlin Rodgers (see all)