Tucked away at the end of a long hallway in Yosemite Hall is the ROTC lounge, where large Gatorade bins, training gear and two long couches clutter the small room as the walls remained blank.
That is until student cadet Dom Bilandzich had the idea earlier this semester to bring them to life by commissioning artists to paint a mural.
The main goal is to create a mural that would be motivating and inspirational to all cadets in the ROTC program at Sacramento State, said Bilandzich, who collaborated with friend and fellow cadet Jared Ureno on this project that should span over the next two semesters to complete.
"This is kind of an out-there project for the army," Bilandzich said. "No one has really ventured in doing something like this before."
For the pair, it took around six weeks in between October and November to find an artist who has the creative vision that'd meet their own.
"It was a whole long process," Bilandzich said. "It was just kind of bad timing, and then trying to find somebody who wants to do the project and then the selection took a while as well."
Eight artists applied for the chance to transform the wall of Yosemite Hall but in the end, Bilandzich and Ureno settled on art duo Madelyne Templeton and Richard Jacobo for the project.
"I saw the poster on the wall (that advertises) this and I was really intrigued because I've never done a mural," said senior fine art major Templeton. "It's kind of like a bucket wishlist."
Templeton and Jacobo will receive $400 to use on supplies as well as for their own work compensation.
"Our major was on board with it, but we still had to get it formally approved through (the department chair) and it took some time to get the funding approved as well," Ureno said.
Before the painting process began at the beginning of November, every detail went through inspections and approvals from Bilandzich and Ureno — like the uniform style on the mural and the design of the gun.
As a comic artist, Jacobo said he designed the masculine figure of the soldier while Templeton worked on creating the overall image of the mural.
The soldier in the mural is seen holding a 'Forged Gold,' which represents the Forged Gold Battalion comprised of UC Davis and Sac State cadets.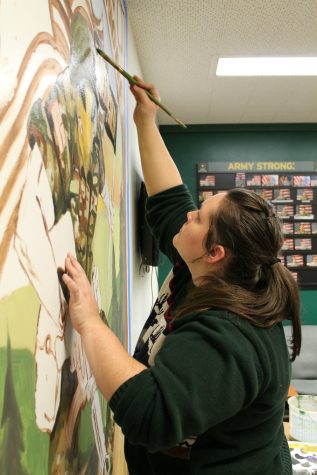 The words "Second to None" on top of the soldier were added to honor staff Sergeant James Willis, whose leadership style and friendships impacted many cadets in the program.
"We really wanted something that brought spirit to corps and to our program," Bilandzich said. "Something that really brings out army values and what we stand for, the mental toughness and physical proudness of it all."
Templeton said she and Jacobo cleaned the wall, patched up holes and used multiple coats of primer before they began to paint.
"Usually the beginning is hardest because you have to prep, and make sure you get the angles right," Templeton said.
The muralist duo said they aim to finish the project by the end of finals week. And to do this, they will have to work long hours and through the night at least once. But for Templeton, the result should be a satisfying payoff for her and Jacobo's sacrifice.
"The thought that this is going to be permanently here for others to see is something I really like," Templeton said. "It's exciting to know that my work is going to be on Sac State grounds as long as they have this lounge room."

The following two tabs change content below.

Sami Soto is a Santa Barbara native attending CSU Sacramento where she majors in Government-Journalism and minors in Creative Writing. She works as a video editor and news writer for The State Hornet, Sacramento State's student run newspaper. Sami is a radio host for Sac States radio station, KSSU, where she broadcasts her weekly radio show and blogs about current events. Sami has a passion for public radio and aspires a career as a foreign correspondent.

Latest posts by Sami Soto (see all)