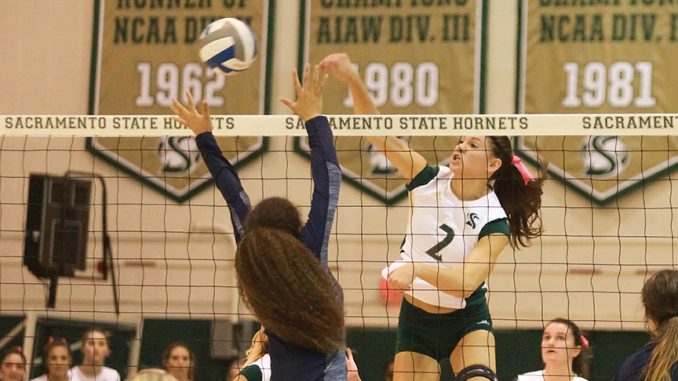 The Sacramento State women's volleyball team is prepped for battle as they take on Montana State tonight at Shroyer Gym in Bozeman, Montana.
After its sweeps last week against Northern Arizona (25-15, 25-18, 25-19) on Oct. 27 and Southern Utah (25-12, 25-17, 25-20) on Oct. 29, the Hornets will look to add another win to its four-match winning streak.
"We did a really good job picking up balls, and our defense was really good which gave our hitters an opportunity to score," Sac State senior libero Lexie Skalbeck said about last week's match against Northern Arizona. "Our defense has done really well overall."
On Monday, Skalbeck and senior outside hitter Madeline Cannon were named Big Sky Defensive and Offensive Players of the Week, respectively. Cannon contributed a team-leading amount of 29 kills, while Skalbeck delivered a total of 42 digs between last week's two-sweep performance.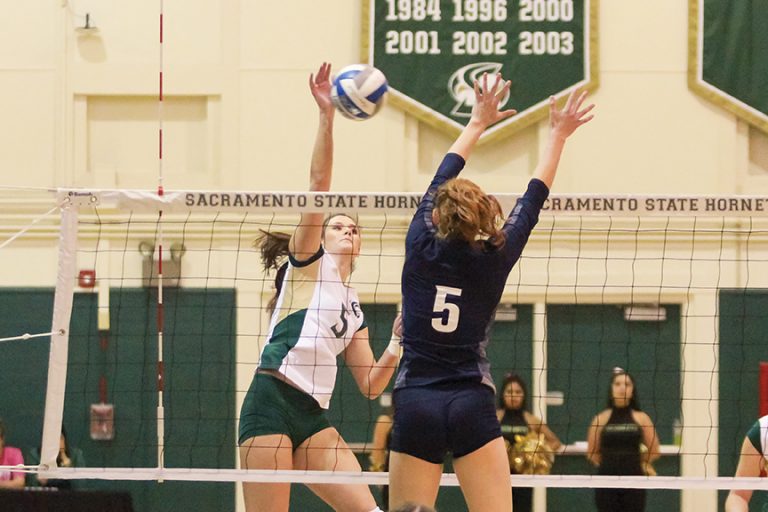 "I was definitely a lot more nervous playing a new position," Cannon said after switching from middle blocker to outside hitter this season. "It feels really great, though, to be playing pretty solid these past matches."
As seniors, Cannon and Skalbeck are also excited to represent Sac State (15-11, 9-3 Big Sky) during its postseason push with only four games remaining in the regular season. After tonight's match at Montana State, the Hornets will return home for a three-game home stand from Nov. 5-12 and begin prepping for the Big Sky Conference Tournament on Nov. 17.
"I'm so glad the last games are at home," Cannon said. "I'm from Sacramento, so I'm especially happy my parents will be able to see the end of my volleyball career."
These last few games will be of big importance as the Hornets chase last year's Big Sky postseason champion Northern Arizona (20-5, 10-2 Big Sky) for the Big Sky South division title.
"I feel like there's never a break in our conference," Sac State head coach Ruben Volta said about the upcoming tournament. "They're all good teams. But we just continue to work hard. We don't do anything different in practices. Everything else just all falls in line."

The following two tabs change content below.


Latest posts by Stephanie Beachley (see all)