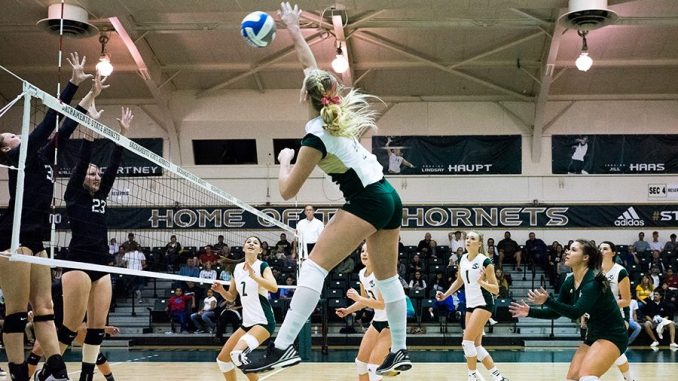 Sacramento State defeated Portland State 3-1 on Saturday, and the women's volleyball team is riding a six-game winning streak with two games remaining before the Big Sky Tournament.
After winning its final regular-season road match against Montana State on Nov. 3, Sac State (17-11, 11-3 Big Sky) came back home to drop only one set out of four (25-15, 16-25, 25-21, 25-14) against the Vikings (15-11, 7-7 Big Sky) at Colberg Court .
"I thought Portland State did a really good job of serving and passing, especially in the second and third set which gave us some problems," Sac State head coach Ruben Volta said. "I was really happy how we responded. We just played hard."
Senior outside hitter Madeline Cannon and sophomore outside hitter Mikaela Nocetti nearly had more combined kills (37) than the entire Portland State team (45) during the four sets of competition. Cannon, who won Big Sky Offensive Player of the Week honors on Oct. 31, also surpassed her previous career best (16) with 20 kills against the Vikings.
"It was awesome," Cannon said. "As a middle, I only ever got to 16 and so being a right side allowed more opportunity and it finally happened."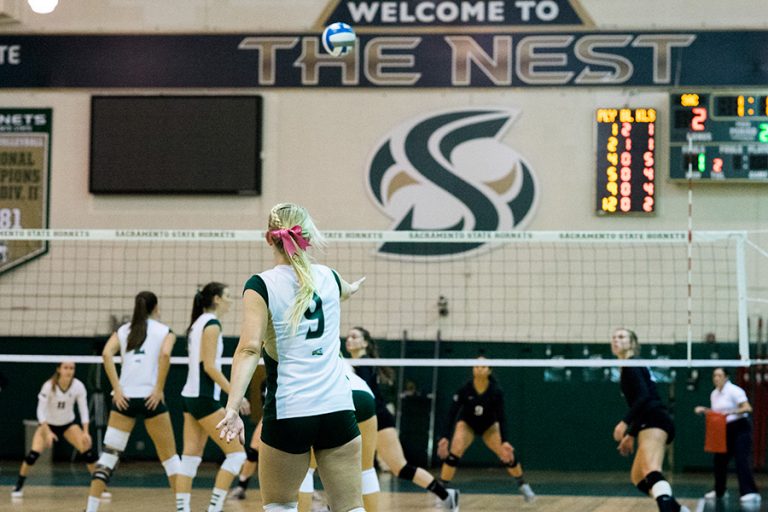 Sac State set the tone in the first set with a 25-15 win, but then dropped its second set (25-16), and was trailing (18-16) late in the third set to Portland State. But the Hornets came back for a 25-21 set win and finished the night with a 25-14 victory to earn the team a tie for first place in the Big Sky South division with the Northern Arizona Lumberjacks (21-6, 11-3 Big Sky).
"Well, it's getting toward the end of our regular season and we would really like to be first in conference and possibly host," Nocetti said. "I think that kind of fired us up and we just really wanted to play our best."
Sac State now has two games remaining in the regular season against Idaho State and Weber State, both of which are at home. This bodes well for the Hornets as the team currently has a 14-game winning streak at home against Big Sky opponents dating back to Sept. 24, 2015.
"It is huge, people hate coming to Sacramento," Cannon said. "Everyone in the conference is in such a higher altitude, (so) it's just a lot different for them. A lot of teams don't play on sport court and the elevation difference (so) having two at home — that is the perfect ending to the season."
The Hornets will next host Idaho State on Nov. 10 in the hopes of continuing its winning streak and earning sole possession of first place in the Big Sky South division.

The following two tabs change content below.


Latest posts by Ryan Lewis (see all)