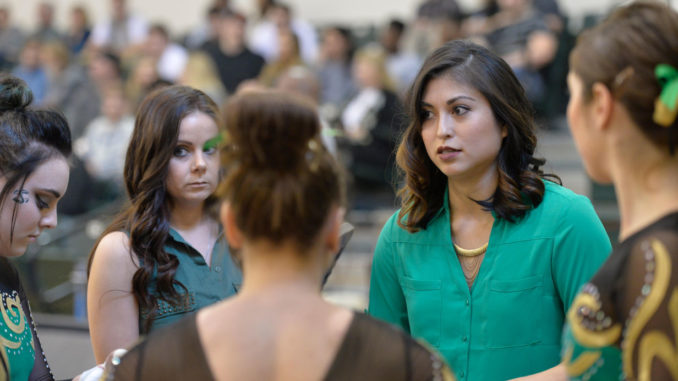 Sacramento State students and alumni are very familiar with the rivalry that the Hornets have with the UC Davis Aggies.
For Sac State gymnastics assistant coach Tanya Ho, however, that rivalry has become muddled.
Ho competed for the Aggies from 2007-10 and continued as a volunteer assistant for UC Davis for two years after that. However, she has served as an assistant coach for the Hornets for the past four years, a dynamic that may seem odd to Sac State or UC Davis alumni.
That dynamic has become anything but odd for Ho now that she has been with the Hornets for the same amount of time that she competed for the Aggies.
"It was weird at first," Ho said. "It took me a long time to figure out the pronouns. I kept saying 'we' when I was talking about Davis and I would say 'they' when I was talking about Sac State."
During her UC Davis gymnastics career, Ho was a standout performer for the Aggies. She was one of only three gymnasts to compete in the all-around her freshman year, had the highest average all-around score her sophomore and junior seasons and capped off her career with a Mountain Pacific Sports Federation Athlete of the Year nod in her senior season.
After completing her illustrious career as a student-athlete for the Aggies, Ho was unsure of her desired career path, which brought her back to her gymnastics roots and to the school that she competed for.
"I didn't know what I wanted to do," Ho said. "So then I started coaching at a club in Vacaville because my friend, who was directing gymnastics there, needed a coach. And as I was coaching in Vacaville, I was just volunteering for Davis' gymnastics program."
As Ho competed in gymnastics throughout her childhood in the Sacramento area, the Sac State coaching staff was well aware of her talents early on.
"I have known Tanya since she was a high school and club athlete and I actually recruited her as an athlete, but she chose to go to Davis," said Sac State head coach Randy Solorio. "When our coach Jamie Donkin left [in 2012], we were searching for another coach and the head coach at UC Davis recommended [Ho] and said she was a great coach and was looking for a position to move up, so we offered it."
Since joining the Sac State coaching staff in 2013, Ho has helped lead the Hornets to two conference championships, including this season when the Hornets scored a Mountain Pacific Sports Federation championship record score of 196.300, ahead of Ho's alma mater UC Davis (195.300).
At the championship award ceremony, Ho was recognized as MPSF Assistant Coach of the Year, an honor that Solorio won in 2015.
"Tanya has such great organization skills and a drive and a passion and vision," Solorio said. "She sets out and has a plan and works at it every day. She has motivated and pushed the athletes to a little different level."
One of Ho's goals as a new assistant with the Hornets was to be a relatable source of advice and help for the athletes that they may not have had before her arrival.
"I'm pretty close in age with them so I just try to be someone that they can come to and feel comfortable talking to," Ho said. "Before I got here, it was just two men in their 50s and 60s so I kind of wanted to help bridge that gap."
"In that day [with] two men coaching 19 women, having a woman on staff was definitely, I believe, an important part of the program," Solorio said. "She made a great bridge between the athletes and herself. She was old enough to have a little separation but still young enough to understand what's going on in the athletes' lives."
The gymnasts on Sac State's team are very complementary of Ho and believe that she is a major reason that they have been as successful as they have been the last few years.
"Tanya is very straightforward and she'll tell you exactly what you need to do to get your stuff done in the gym and to succeed in competition," sophomore Lauren Rice said. "Without Tanya, I don't think we would have the kind of push that we need to get out there and do our best every time."
Coming in to a situation where she would be close in age with the athletes, Ho knew it would be tough and said that she made it a point to gain the gymnasts' trust as a coach first.
"I try to be positive, but I also want them to know that I'm their coach," Ho said. "I make sure that they respect me as a coach because it's important for them to feel comfortable with me, but it's also important for me to be able to tell them when they need to fix something or change something."
Now that Ho has been with the Hornets for four full seasons and has helped them accomplish all that they have, she said that she has no problem rooting for the Hornets over the Aggies.
"After four years, I just want to beat them every time now," Ho said. "I still know some people over [at UC Davis] and am friends with them but during meets, I am just fully with our team."
Ho has come from being one of the more decorated athletes in Aggie gymnastics history to being an integral piece of the Hornet gymnastics program, a path that may seem abnormal but actually is not that far off from that of Solorio, who competed for UC Davis from 1980-1982 before later completing his degree at Sac State.
That means the Hornet gymnastics program's two longest tenured current coaches are both former Aggies who have switched allegiances in the causeway rivalry and have helped build Sac State into a perennial conference heavyweight.
"It adds a fun little feel to it when you compete against your rival who used to be your alma mater," Solorio said. "For [Ho], I think it is exciting for her to compete against Davis and to kind of show, 'Look, I've grown up.'"

The following two tabs change content below.
Latest posts by Julian Perez (see all)