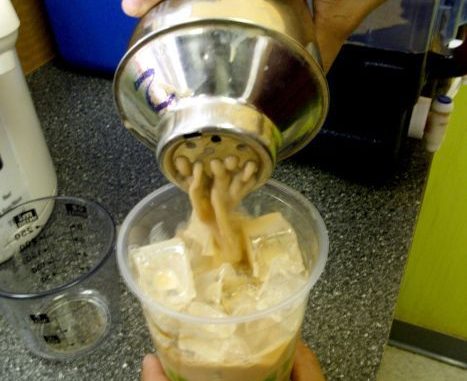 They're not sodas, or juices; and not even smoothies. They're bubble teas. Well that's just one of the many names given to this drink.
Bubble tea, boba tea, pearl milk tea; no matter which way people say it, they want it.
Sacramento State's Hiraku Sushi recently added bubble tea to its menu, making it the craving that everyone wants to satisfy.
In the beginning of April, Hiraku Sushi, located at the River Front Center, decided to extend its menu by adding bubble tea to the variation of options they offer students, faculty and staff.
Betty Liu who works at Hiraku Sushi said they decided to begin serving boba because of its popularity.
"Students would come to ask if we served boba," Liu said. "We just looked at the trend and it's really popular – and that's where we got the idea from."
Popularity for this refreshing tea has increased since its invention in Taiwan during the 1980s. The birth of boba can be traced back to teahouses in Taiwan where creators experimented with tapioca in tea. This new creation became a hit and spread through most of East and Southeast Asia during the 90s and then appeared in Asian communities in other countries, including the United States.
Soon enough people's thirst for bubble tea was insatiable.
Communications student Leslie Tagtmeier is just one of the students on campus that drinks boba.
"I like how there's variety," Tagtmeier said. "Like, there's a lot of flavors and you're not limited to having your drink with boba. It can be plain or with jelly and even pudding."
The sale of bubble tea has contributed to the increased business that Hiraku Sushi is experiencing. The shop was previously run by one employee, but is now serviced by four.
"Business is pretty good," Liu said. "A lot of students come for their afternoon tea and sit and talk. We bring quite a lot of students over to this side of campus."
And their work is paying off. The lines are long and the faces are happy after taking that first sip.
Sac State family and consumer science student Kali Zhou tried bubble tea the day after they began serving it and said she keeps going back.
"It's convenient to my class which is in Mariposa," Zhou said. "It is inexpensive, they are friendly and fast with service, and it tastes good. It's perfect for spring."
Traditionally the bubble teas can be made with different kinds of teas, with or without milk, and they can also contain a variety of fruit flavors. Hiraku Sushi currently offers black milk tea, green tea, thai tea and taro milk tea.
They're not stopping there. Hiraku Sushi still has big plans ahead for its new endeavor and to keep business increasing and customers happy, they will soon be adding more.
"When the weather gets warmer, we'd like to serve fruit flavors like mango and strawberry," Liu said. "(Which are) flavors students like."
Liu said that Hiraku Sushi will start serving an increased variety of flavors before the semester ends.
"It has become a trend phenomenon," Liu said. "We figured out that we should participate."
Wendy Aguilar can be reached at [email protected]

The following two tabs change content below.


Latest posts by svanairsdale (see all)